Mangrove Detectives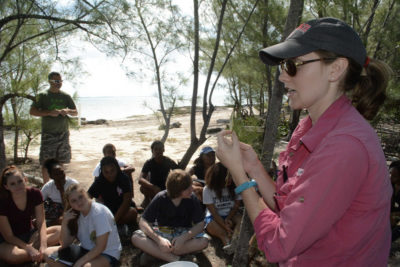 Around the world, mangroves are in peril. Much of the decline of mangrove forests have been due to human destruction, including overexploitation, coastal development, changes in water flow, oil spills, and marine debris. In the Bahamas and greater Caribbean, there is great concern because large areas of mangroves have completely died off. As a result, scientists such as Dr. Ryann Rossi, have been researching these areas in hope of finding out what is causing the die-off, so that damage to critical mangrove habitats can be mitigated.
Dr. Ryann Rossi first became interested in mangrove die-offs throughout the Bahamas when she was getting her doctorate at North Carolina State University. In 2013, Dr. Rossi started researching various mangrove die-off areas in the Bahamas. She found that mangroves are dying due to the combined effects of plant pathogens, herbivory, and altered abiotic factors, possibly due to humans.
In 2017, we partnered with Dr. Rossi to develop a lesson plan that invites high school students to participate in citizen science. During the lesson, students collect, process, and analyze potentially diseased leaves of mangroves. Then they determine what pathogens are present and explore what could be causing the disease. In collaboration with our partners at FRIENDS of the Environment, we implemented these lesson plans into our Mangrove Education and Restoration program.
Dr. Ryann Rossi, Friends of the Environment, and the Living Oceans Foundation had a larger goal to build a program called Mangrove Detectives, which would allow us to expand the already existing curriculum and make it available to a larger audience. In 2018, we received a grant from the National Geographic Society to create this program. With the funding, we developed two additional lesson plans, instructional videos, and built a website to host this information and collect student data.
About Mangrove Detectives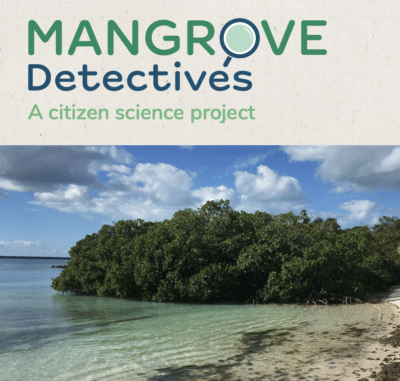 Mangrove Detectives is a citizen science program that helps identify mangrove disease and insect communities, while at the same time providing unique educational opportunities for students. By coupling field and lab activities and online tools, students receive a multi-faceted educational experience while contributing to science as mangrove detectives. We hope that this will introduce many students to the sciences and serve to encourage them to enter scientific disciplines.
In the new citizen science activities we developed for this program, students investigate insect communities in their local mangrove forest. The first activity, Outbreak Investigation, includes building an insect trap, deploying and collecting the trap, and analyzing the insects caught in the trap. During the second activity, Secret Agents, students will learn how to randomly sample mangrove leaves, categorize the types of grazing present on the leaves, and calculate the percentage of the grazed areas on the mangrove leaves.
We invite you to visit the Mangrove Detectives website at www.mangrovedetectives.org to learn more about the program and gain access to all of the educational materials.