Maldives
The Khaled bin Sultan Living Oceans Foundation launched a novel partnership with resorts and recreational divers to protect reefs from destructive starfish. During the months of October and November, 2015 the Foundation worked in the Maldives to remove Crown of Thorns Starfish (COTS) and invited certified SCUBA divers to participate in the project.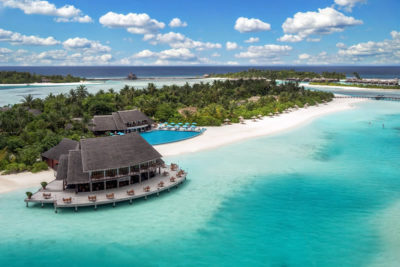 The project in the Maldives is part of the Foundation's ongoing Starfish Control and Removal (SCAR) Program designed to protect reefs from the damaging effects of the coral-eating starfish. According to Dr. Andrew Bruckner, Chief Scientist for the Khaled bin Sultan Living Oceans Foundation, "This is an uncommon opportunity for recreational divers, dive operators and local divers to take an active role in conserving the reefs they value. By working side by side with scientists, the numbers of starfish that will be removed from these reefs will be greatly increased."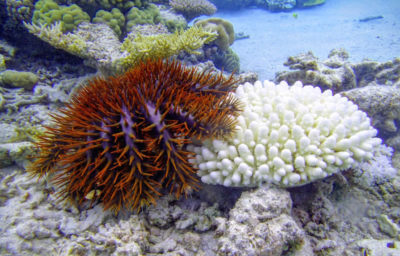 The SCAR program has three components, an assessment of the condition of the reef and the amount of damage caused by the starfish, the removal of the COTS during outbreaks, and training others to remove COTS. Future plans are to build a global database of COTS outbreaks.
While in the Maldives the Foundation's science team surveyed coral reefs to record the number and distribution of the COTS, assess the extent of damage and study the COTS' feeding preferences. They will also collect tube feet from COTS to determine where they came from and how they are spreading.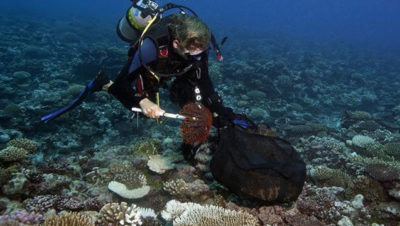 Crown of Thorns Starfish are a significant threat to coral reefs in the Indo-Pacific region. When outbreaks of these starfish are not controlled quickly, COTS often consume all the coral in one area and spread to neighboring reefs. Severe outbreaks of COTS are capable of destroying an entire reef system in a matter of weeks, and reefs may require decades or more to recover.
Without corals, the fish that depend on reefs for feeding, shelter and breeding grounds will disappear. With millions of visitors to coral reef nations every year, COTS outbreaks have the potential to have a devastating impact on dive tourism.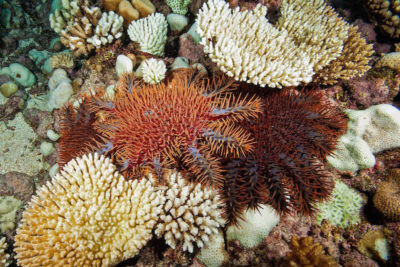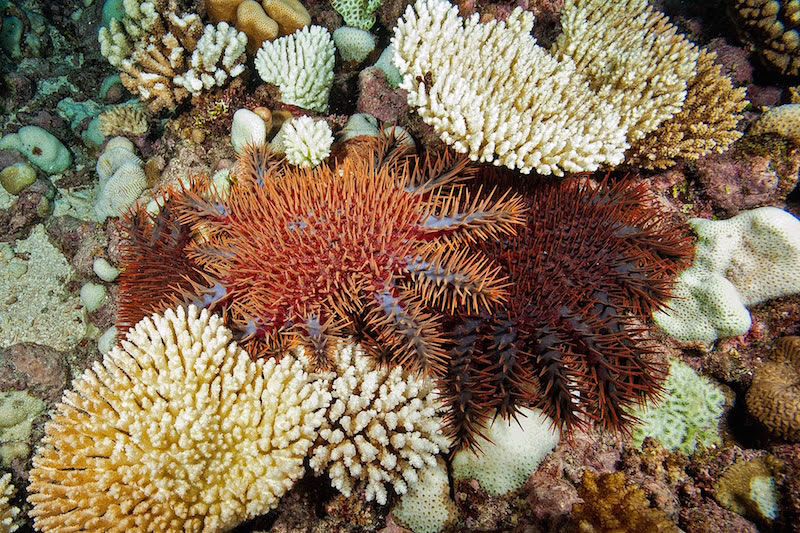 The science team from the Khaled bin Sultan Living Oceans Foundation will determine if this type of COTS removal program could be scaled-up to protect larger reef areas. Because scientists are unlikely to be able to deal with the scale of the problem alone, volunteers and local divers are going to play a critical part in the success of the removal efforts. The team will return in 2016, to assess the health of reefs where they removed the COTS and determine how successful the COTS removal project has been.

Partners in the Maldives
The following resorts in the Maldives have been extremely supportive of our starfish control and removal program, and are generously sponsoring portions of our COTS research program.
"Furthering the coral adoption programme that Anantara initiated in 2008, we are thrilled to be supporting this marine environment programme conducting hands-on coral reef conservation. Surrounded 99% by water, the real beauty of the Maldives thrives below sea level with stunning corals and vast array of marine life. It is crucial that proactive and preventative measures are taken to protect it." – Elizabeth Smailes, Anantara Resorts
---
---