Mangrove Education & Restoration
Our mangrove education and restoration program aims to increase environmental awareness and restore mangrove forests in the Caribbean. We have partnered with local educational institutions to teach students and teachers about the ecological importance of their mangrove forests and help them get involved in mangrove restoration efforts.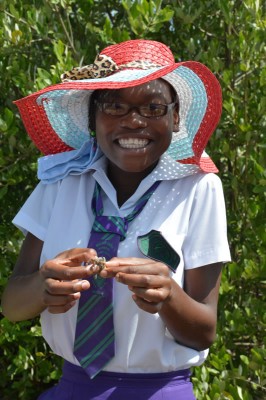 Mangroves are in peril around the world. It's estimated that more than 1/3 of the world's mangroves have been lost in the past 50 years. Much of this has been due to human destruction including overexploitation, coastal development, changes in water flow, oil spills, and marine debris.
Mangroves are extremely important ecosystems. They provide goods and services such as wood, coal, and dyes; produce oxygen and reduce the amount of carbon dioxide in the atmosphere; provide coastal protection from storms and hurricanes; provide food, habitat, substrate, nursery and breeding grounds for many different organisms including numerous endangered and commercially important species; and reduce sedimentation and filter nutrients and toxins out of the water providing good water quality to coral reefs and seagrass ecosystems.
We work with educational institutions and NGOs to establish and implement mangrove education and restoration programs in secondary schools in Jamaica and The Bahamas. We have developed a mangrove curriculum that is aligned to each country's educational standards and work 10th & 11th grade science students and their teachers. This curriculum provides students and teachers the opportunity to participate in STEAM-based, project learning throughout the school year. Our objectives are to: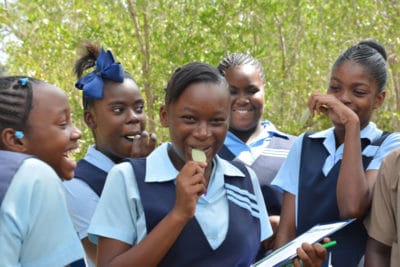 Educate students, teachers, and community members about mangrove forests.
Create a hands-on, collaborative project for students and teachers that will help to restore and monitor the mangrove ecosystem.
Engage students, teachers, and community members in stewardship of their natural resources and impart a conservation ethic.
Support each country's commitment to teaching science, technology, engineering, art, and mathematics (STEAM).
Increase ocean literacy by creating awareness about mangroves, the threats posed, and how people can help preserve these diverse ecosystems.
Over the years we have expanded our Mangrove Education and Restoration Programs, working with parters to allow more students to participate and to take part in citizen-science programs. We partner with EarthEcho to provide teachers and students in our program with the opportunity to participate in the EarthEcho Water Challenge. Our students collect water quality data as part of their mangrove research and habitat restoration and contribute their findings to a global database. We also work with Dr. Ryann Rossi to implement citizen science in our program. Students act as Mangrove Detectives, investigating the presence of mangrove disease and samples are shared with Dr. Ryann Rossi for further genetic testing.
We are also working with our partners at Alligator Head Foundation on the Mangrove Development, Education, Awareness, and Livelihoods (Mangrove DEALs) program, which brings mangrove outreach and education to key stakeholders throughout Jamaica, including educators, community members, and government officials.
For more information about the following mangrove education and restoration programs, please contact Amy Heemsoth.