Education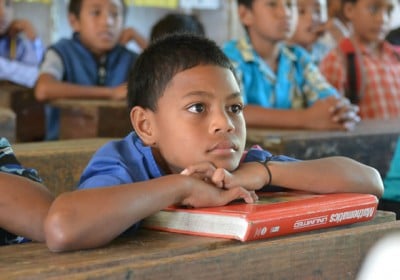 The Living Oceans Foundation is dedicated to the conservation, preservation, and restoration of the living oceans. Our education department furthers that mission by creating awareness about the threats to coral reefs as well as the pertinent research our scientists are conducting throughout the world's oceans.
Our marine science education program extends the Foundation's impact to a variety of audiences including the general public, informal and formal K-12 science education, and colleges and universities via graduate fellowships. An increased engagement in ocean literacy will further advance the conservation and restoration of living oceans – the core of our mission.
Marine Science Education Programs
The education department established a variety of marine science education programs to aid in fulfilling the mission of the Foundation. These programs include:
Coral Reef Educators on the Water (CREW) Program offers formal and informal science educators the opportunity to join the Global Reef Expedition (GRE) aboard the M/Y Golden Shadow.
We sponsor a graduate Fellowship Program for doctoral students and post-doctoral researchers whose research focuses on activities that contribute to a better understanding of the health and resilience of coral reefs in countries surveyed throughout the Global Reef Expedition (2011-2016).
Our comprehensive Coral Reef Ecology Portal hosts our coral reef ecology curriculum, which includes a multimedia package of teaching and learning tools. This curriculum has been developed in accordance with the Next Generation Science Standards (NGSS) and Ocean Literacy Essential Principles international educational standards for K-12 students. This award-winning course will engage and excite students while learning about coral reefs.
Education Workshops and Presentations are provided locally, abroad, and online for a variety of audiences that relate to coral reefs and the research we are conducting around the world.
Science without Borders® Challenge is a yearly art competition that engages students to promote public awareness of the need to preserve, protect, and restore the world's oceans and aquatic resources through different forms of media.
In secondary schools in the Caribbean, we have implemented a Mangrove Education and Restoration program. Students and teachers will learn about the mangrove ecosystem, while participating a STEM-based project learning throughout the school year.
Register to receive our newsletters from our Education Team: