Lesson Plans
Are you a teacher looking for lesson plans? You've come to the right place! The Khaled bin Sultan Living Oceans Foundation creates lesson plans to help teachers incorporate marine science into their classrooms.
We use marine life as examples to teach core STEM (science, technology, engineering, and math) concepts such as cell division, classification, food webs, life-cycles, and reproduction. All our lesson plans are aligned to the latest educational standards, including the Next Generation Science Standards, Ocean Literacy Principles, and Common Core State Standards. The following packages of lesson plans are designed for use in middle and high school classrooms, but they can be easily adapted for younger and older age groups.
We are constantly working to provide teachers with even more lesson plans and educational resources. Sign up for our education newsletter to be the first to hear about new lesson plans as they are released!
---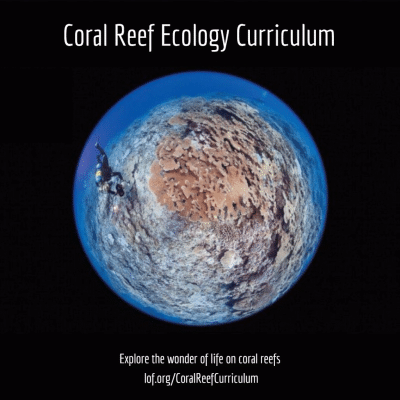 Coral Reef Ecology Curriculum
Our online Coral Reef Ecology Curriculum contains hundreds of lesson plans teachers can use to bring the beauty and wonder of coral reefs into their classrooms. We use coral reefs to teach about a variety of science topics, providing a fun, interesting, and educational experience for all.
There are multiple ways to utilize the 14 units in our curriculum. You can pick and choose the lessons, videos, and quizzes that you want your children to learn about; you can complete an individual unit; or, you can take the course in its entirety. How do you get started? To get the most out of this educational resource, we suggest that you navigate through the curriculum one unit at a time. Make sure to register as a teacher on our education portal to get full access to lesson plans and answer keys.
Appropriate for: Middle and high school students
---
Ocean Odyssey
The Khaled bin Sultan Living Oceans Foundation, in partnership with K2 Studios, published a set of lesson plans to help middle school students dive into a new IMAX film, Ocean Odyssey. Narrated by legendary oceanographer and conservation icon Dr. Sylvia Earle, Ocean Odyssey takes viewers on a spectacular 3D underwater journey and transports viewers deep into the blue heart of our planet—our oceans.
In order to help students learn more about the topics covered in the film, KSLOF created the Ocean Odyssey Educator's Guide for middle school students (grades 6-8). The free guide contains lesson plans, worksheets, and grading rubrics that teachers can use in their classes after seeing the film. These activities provide a way for students to delve into important educational and conservation topics in the film, while aligning to standards that teachers need to incorporate in their science classes.
Appropriate for: Middle school students
---
Mangrove Detectives
Mangrove Detectives is a citizen science program that teaches students about mangrove forests while helping scientists identify mangrove diseases and insect communities. By coupling field and lab activities and online tools, students receive a multi-faceted educational experience while contributing to science. The program, funded by a grant from the National Geographic Society, contains two lesson plans that invite high school students to participate in citizen science by collecting, processing, and analyzing potentially diseased mangroves and surveying the insect community living in a mangrove forest.
Appropriate for: High school students with access to a mangrove forest
---
Virtual Reality Field Trips
The Khaled bin Sultan Living Oceans Foundation is working with scientists at the University of Miami to create virtual reality (VR) field trips to accompany our Coral Reef Ecology Curriculum. This will allow students anywhere to learn about coral reefs through a fun and immersive educational experience. The first virtual reality field trip that we are developing focuses on the geology and structure of coral reefs. The VR field trip is currently under development, but we hope to add it to our Education Portal soon. Funding for the development of the virtual reality field trip was generously provided by the University of Miami.
Appropriate for: Middle and high school students
---
Impact of the Pandemic on Wildlife
The Khaled bin Sultan Living Oceans Foundation is developing lessons on the impact of the COVID-19 pandemic on wildlife, thanks to a generous grant from the National Geographic Society. One noticeable impact of the pandemic on wildlife was a massive reduction in noise pollution. With shipping curtailed in many locations, cruise ships canceled, and tourism put on hold, there was much less boat traffic—and associated manmade noise pollution— at the beginning of the pandemic. This has given scientists an opportunity to better understand the importance of sound and noise pollution in the marine environment. When completed, these lessons will help middle and high school students and teachers learn about noise pollution and the threat it poses to marine life.
Appropriate for: Middle and high school students
---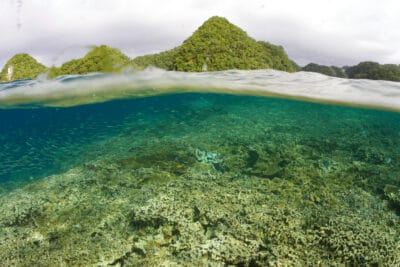 Protist Prophets
We are in the process of developing a packet of educational resources called "Little Creatures with A Big Message" to share the science and knowledge of foraminifera with students and teachers. These educational resources will amplify math and science skills among middle and high school students, use real-world contexts and problem-based learning to increase ocean literacy, and support teachers integrating STEM into their classrooms. This work is supported by a grant from the National Science Foundation and is being conducted in collaboration with our partners at the University of Miami.
Appropriate for: Middle and high school students