Workshops & Seminars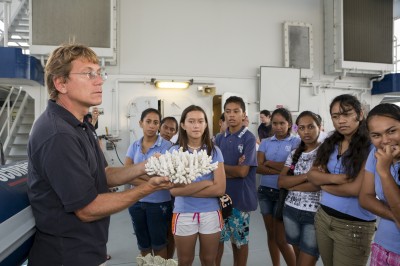 Part of the Global Reef Expedition involved hosting education seminars and workshops in as many places as we can. For instance, in Jamaica, we conducted a workshop for high school and college students about coral reefs and how they can begin their own conservation projects in Jamaica. In Fakarava, French Polynesia students toured the M/Y Golden Shadow and got a firsthand look at how we conduct research. Several Skype calls and Google Hangouts have been conducted between scientists on the ship and students in the United States. This allows students to speak one-on-one with a scientist in the field.
Education Workshops
Education workshops and presentations are provided locally, abroad, and online to teach the public about coral reefs and the Foundation's research. Sharing our knowledge of coral reefs throughout the world helps us to promote awareness, conservation, and preservation.
Our education departed conducted education workshops for students, teachers, and community members in as many places as possible on the Global Reef Expedition. Now that the field research for the Global Reef Expedition is complete, we continue to run workshops and seminars near the Foundation's offices in Annapolis, MD. Our marine science workshops cover topics covering coral reef health, resiliency, and disease, threats to coral reefs, ocean acidification, overfishing, and marine protected areas, among many others.
Our workshops and seminars are designed to reach a diverse audience including:
Students and teachers at primary and secondary schools
Outdoor education groups
Nonprofit organizations
Marine tourism corporations
Scientists
Community members
Sign up for our education mailing list to hear about the next education workshop near you.
Global Reef Expedition Education
Education was a critical component of the Global Reef Expedition. When we first launched the Expedition, the Foundation conducted seminars about coral reefs and the Global Reef Expedition for hundreds of students in the Washington DC area.
Once the Global Reef Expedition began, teachers applied to join Foundation scientists on the Expedition through our Coral Reef Educator on the Water (C.R.E.W.) program. C.R.E.W. teachers conducted education workshops and presentations for local students and community members while on the expedition, developed educational materials, and broadcast lessons to students online. When they completed the expedition, C.R.E.W. teachers continued to improve ocean literacy by sharing the knowledge and experience they gained on the Global Reef Expedition home to share with students in their classes and schools.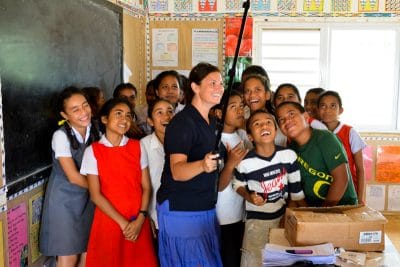 As the Global Reef Expedition continued, the Foundation expanded its educational programs, conducting coral reef seminars for students and community members across the Pacific.
In these seminars, people learned about the Foundation as well as what corals are and where they live. They also learned about the benefits of coral reefs, the threats they face, and what they could do to help. Wherever we went, people were fascinated by life on the reef, and many were surprised to learn that corals are alive and reefs are built by tiny animals over thousands of years. Over six thousand people attended our coral reef seminars in Tonga, Fiji, and the Solomon Islands. Our work with teachers and students in Tonga was so promising that we launched a coral reef education program and returned the following two years to assess the retention and effectiveness of our coral reef seminars.
Not only were we able to teach people a great deal about coral reefs on the Global Reef Expedition, we learned a great deal from them. These community seminars and workshops gave us a chance to talk to community members about how they used the reef, what problems they saw, and discuss possible solutions and alternatives. We learned about outbreaks of deadly crown-of-thorns starfish, destructive fishing practices, and species they no longer saw on their reefs. We also heard from community members how they wanted to protect their reefs by implementing marine protected areas and sustainable fishing practices.
Although the field research for the Global Reef Expedition is now complete, we continue to implement education programs in places we visited on the Expedition, including Jamaica and The Bahamas. We also created an extensive Coral Reef Ecology Curriculum that is hosted on our Education Portal so it can be accessed anywhere in the world. This state-of-the-art education resource provides students, teachers, and life-long learners with the opportunity to learn about our oceans and coral reefs.
Corals in the Classroom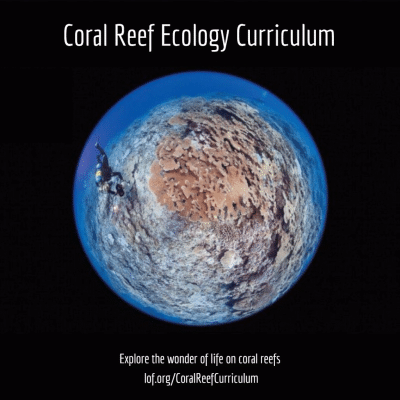 The Foundation's Corals in the Classroom workshops introduce teachers to our Coral Reef Ecology Curriculum and helps build their understanding of coral reef ecosystems. Designed for middle and high school teachers as well as informal educators, this credited, two-day professional development workshop aims to increase ocean literacy while providing teachers with greater confidence teaching about coral reefs. Teachers that are more confident in teaching about coral reefs are more likely to include this information in classroom instruction.
During the workshop, teachers are introduced to a set of classroom-ready activities from the Foundation's Coral Reef Ecology Curriculum. The activities include a wide variety of educational materials including custom-built interactive exercises, lesson plans, educational videos, and quizzes, all aligned to the latest education standards (Next Generation Science Standards, Common Core State Standards, and Ocean Literacy Principles). Participants learn how coral reefs can be used to teach about everyday topics, such as classification, mitosis, and symbiosis. They also learn how to connect this information to other subject areas such as Math and English.
Corals in the Classroom is credited by the Maryland Department of Education (MSDE). Maryland teachers that attend the workshop are eligible to receive one MSDE Professional Development Credit.
If you can't make it to one of the Foundation's live Corals in the Classroom workshops, we have recorded a 30-minute professional development training that will walk teachers through everything they need to know to get started using the Coral Reef Ecology Curriculum in their classroom.
At this time, we do not have dates set for our next Corals in the Classroom workshop.
To receive emails about upcoming workshops and teacher trainings:
Join the education mailing list