Findings
The Global Reef Expedition (GRE) circumnavigated the world, using a three-pronged approach of science, education, and outreach to address the coral reef crisis. In the process, the Expedition collected an astonishing amount of data. Our findings from the Global Reef Expedition are outlined below, but have also been published over 100 peer-reviewed publications, field and country reports, atlases, and monitoring protocols.
In addition to the scientific findings, the Global Reef Expedition promoted ocean literacy throughout the world through educational programs for youth and community members, as well as the production of award-winning documentary films.
Science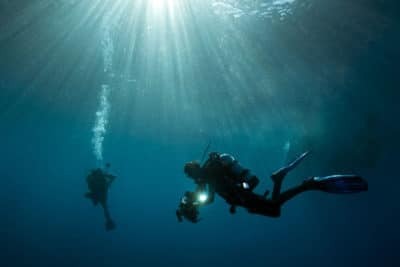 With over 53,000 km traveled, the Global Reef Expedition collected an astonishing amount of data. Including an impressive 65,000 km2 of coral reef habitat maps, close to 17,000 benthic and fish surveys, 9,000 mapping validation transects, for a total of 541 days of SCUBA diving.
MAPPING
Using high resolution satellite imagery, the Khaled bin Sultan Living Oceans Foundation was able to map over 65,000 km2 of coastal marine habitats in 10 countries and territories across the globe. This mapping endeavor produced the most comprehensive atlas of ground-truthed high-resolution coral reef habitat maps. Two atlases, Atlas of the Saudi Arabian Red Sea Habitat and Atlas of Shallow Marine Habitats of Cay Sal Bank, Great Inagua, Little Inagua, and Hogsty Reef, Bahamas were both published by the foundation and are freely available on our website.
One of the most useful tools developed because of the mapping component of the GRE was the web-based World Reef Map. This is a global, online, interactive map that allows users to explore all the coral reefs we have surveyed and mapped. These maps have been used by scientists and managers to aid in management and conservation efforts globally.
ASSESSING THE STATE OF THE REEFS
Collecting global baseline data is critical for addressing the decline and recovery of coral reefs as they suffer from climate change and human stressors. Globally, coral reef benthic communities varied by area. Some locations showed evidence of a phase-shift from coral dominated reefs to macroalgal dominated reefs, while others showed no evidence of this shift occurring yet. The most remote and undisturbed reefs had the healthiest reef systems, but still showed signs of coral cover loss due climate change and coral predation.
Overfishing was evident in nearly every location we surveyed on the GRE. Some studies estimate that a baseline biomass threshold for reef fish should fall between 11-19 kg per 100m2, and most locations fell at or below that threshold. Almost every region had few, large commercially important fish remaining, with most of the fish biomass being made up of small fish.
We were able to work in some of the world's oldest and largest Marine Protected Areas (MPAs). Some countries we visited, such as Australia (North Great Barrier Reef), Palau, and New Caledonia, have large human populations utilizing the reefs and have prioritized establishing large protected and managed areas to conserve their nearshore reef systems. In nearly every instance, these reefs had the best coral and reef fish communities with high coral cover and fish biomass and density. Protecting remote reefs and using marine spatial planning to strategically place no-take, no-entry MPAs can help global coral reef resilience as the coral reef crisis shows no signs of slowing.
With the completion of the Global Reef Expedition and curation of this massive baseline dataset, the foundation has been working on modeling and mapping reef resilience to highlight areas or regions where corals could rebound or potentially survive the coral reef crisis.
Education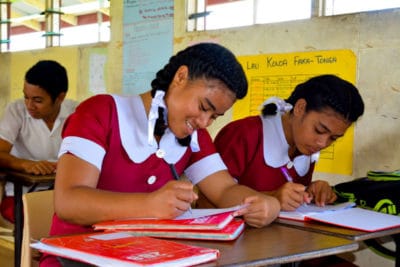 Education was a critical component of the Global Reef Expedition. The foundation launched several in-country programs, which were designed to share the foundation's knowledge about coral reefs, but also to learn from communities who depended heavily upon coral reefs for their lives and livelihoods.
Initially, the foundation conducted educational seminars for hundreds of elementary and high school students in the Washington D.C. area. Presentations covered a range of topics about coral reefs and the GRE. After successful implementation of local school seminars, the foundation expanded its educational programs to GRE country stakeholders. The education team provided coral reef seminars to a variety of different audiences including schools, communities, government officials, and tourists. Tours of the M/Y Golden Shadow were provided in some countries, which provided students, community members, and government officials with detailed information about the research being conducted. Cultural liaisons and scientific advisors from the partner country were invited on GRE missions to consult with communities and assist with education programs and ship tours. In total, over 7,000 people attended coral reef seminars, community events, and ship tours in Jamaica, French Polynesia, Tonga, Fiji, and the Solomon Islands.
The foundation also provided teachers with an opportunity to join scientists on some expeditions through the Coral Reef Educator on the Water (C.R.E.W.) program. While aboard the mission, C.R.E.W. teachers conducted education workshops and presentations for local students and community members, developed educational materials, and broadcast lessons to students online.
OCEAN LITERACY
One common theme that was recognized on the GRE was the lack of knowledge about coral reefs and adjoining ecosystems such as mangrove forests and seagrass beds. As a result, the foundation decided to help mitigate environmental degradation of marine ecosystems through education. Three education programs were developed to help address this need including:
Outreach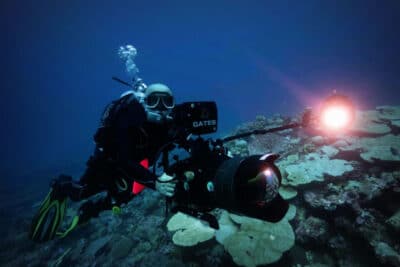 The foundation also sought to educate people about the marine environment by sharing the beauty and wonder of the places we visited on the Global Reef Expedition through films and photographs. Award-winning cinematographers and photographers joined many of the GRE missions, showcasing remarkable coral reefs, educating people about threats to coastal marine ecosystems, and illustrating important marine conservation success stories.
The films and photographs created on the Global Reef Expedition have been shown around the world, transporting people to a place they may never have a chance to visit themselves, and giving people a glimpse into the remarkable underwater world that may otherwise be out of sight and out of mind.
Over 100 films were created on the GRE, from short 5-minute educational films, to feature-length documentary films. A selection of our best films and TV series documenting our work on the Global Reef Expedition are listed below:
More films about our work on the Global Reef Reef Expedition can be found on our website and our YouTube Channel.
Global Reef Expedition Final Report
The Global Reef Expedition Final Report presents a comprehensive summary of the Foundation's findings from the entire Global Reef Expedition.
Global Reef Expedition Final Report (15 MB PDF)
Global Reef Expedition Final Report – Single Pages (15 MB PDF)