Global Reef Expedition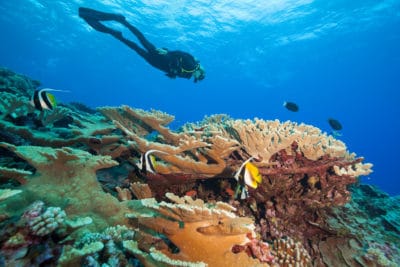 The Khaled bin Sultan Living Oceans Foundation completed one of the largest coral reef studies in history: the Global Reef Expedition. Over the course of 10 years, the Expedition circumnavigated the globe aboard the M/Y Golden Shadow surveying some of the most remote reefs on the planet. On this research mission, we surveyed and mapped one fifth of the world's coral reefs in an effort to address the coral reef crisis. We spent years in the field conducting standardized baseline research to assess coral reef ecosystem health and resiliency. Now, we are diving into our data, publishing reports and scientific papers about our findings.
GOALS
The primary scientific goals of the Expedition were to map and characterize coral reef ecosystems, identify their current status and major threats, and examine factors that enhance their ability to resist, survive, and recover from major disturbance events like bleaching, cyclone damage, or crown of thorns starfish outbreaks. We also engaged in outreach and education efforts to disseminate our knowledge of the health and resiliency of coral reefs. The results of our work were shared freely with participating countries as well as scientific and regulatory organizations and are used to develop management strategies for coral reefs.
COLLABORATIVE SCIENTIFIC RESEARCH
A core team of scientists from the Foundation was joined on each Global Reef Expedition mission by a team of multi-disciplinary scientists and participants from the host country. This collaboration is invaluable for the exchange of scientific knowledge and the distribution of our results.
The information we collect on the Global Reef Expedition helps to identify sites of high priority for protection and to develop conservation strategies that will mitigate human impacts and improve reef resiliency. Our hope is that this research will help preserve and protect the biodiversity, health, heritage, social, and economic value of these marine resources.
FINDINGS
After traveling over 50,000 kilometers, conducting more than 12,000 scientific dives, educating over 7,000 local students and community leaders, and producing over 100 documentary films, the Global Reef Expedition is finally complete. Over 200 scientists, conservationists, government officials, and local experts worked side-by-side conducting tens of thousands of underwater surveys of corals and reef fish communities, and helping to map over 65,000 square kilometers of coral reefs.
What we found was humbling. Evidence of the unfolding coral reef crisis was observed on reefs around the world, with climate change and outbreaks of predatory crown-of-thorns starfish causing substantial damage, even on some of the most remote and undisturbed coral reefs on Earth. The vast majority of reefs surveyed also showed signs of overfishing, with few large fish and lower than expected fish biomass.
In addition to the scientific findings, the Expedition also noted a wide disparity in ocean literacy among communities that heavily rely on coral reefs for their lives and livelihoods. The Foundation addressed this need by launching new education and outreach programs, including a coral reef ecology curriculum and documentary films, to share their knowledge of coral reefs and improve ocean literacy worldwide.
The critical baseline data collected on the Global Reef Expedition will be used as a benchmark for future research and analysis. We are already working with partners to use the data to model the health and resiliency of coral reef ecosystems, and have signed a Space Act Agreement with NASA, allowing them to use maps from the Global Reef Expedition to help train their supercomputers to map the rest of the world's coral reefs from space.
WHERE WE WORK
The Living Oceans Foundation conducts ocean exploration and research expeditions on coral reefs around world for the Global Reef Expedition as well as several other targeted research missions. The Foundation has supported research in the following areas:
Loading map...

GLOBAL REEF EXPEDITION MISSIONS
Farasan Islands – May 2006
Ras Al-Qasabah – September 2007
Al Wajh and Yanbu – May 2008
Farasan Bank – April 2009
Cay Sal Bank, Bahamas – May 2011
St. Kitts & Nevis – June 2011
Inaguas and Hogsty Reef, Bahamas – August 2011
Andros and Abaco Islands, Bahamas – October 2011
Pedro Bank, Jamaica – March 2012
Navassa Island – March 2012
Colombia – April 2012
Galapagos Islands – June 2012
Society Islands, French Polynesia – September-October 2012 and March 2013
Tuamotu Islands, French Polynesia – November 2012
Gambier Islands, French Polynesia – January 2013
Austral Islands, French Polynesia – April 2013
Cook Islands – May 2013
Fiji – June 2013
Kingdom of Tonga – September 2013
New Caledonia – December 2013
Great Barrier Reef, Australia – September 2014
Solomon Islands – November 2014
Palau – January 2015
Chagos Archipelago – March-April 2015
Other Research Missions
Seychelles
Florida Keys Aquarius Habitat
US Virgin Islands
Maldives
Global Reef Expedition Final Report
The Global Reef Expedition Final Report presents a comprehensive summary of the Foundation's findings from the entire Global Reef Expedition.
Global Reef Expedition Final Report (15 MB PDF)
Global Reef Expedition Final Report – Single Pages (15 MB PDF)