Global Reef Expedition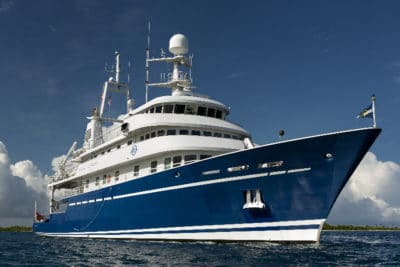 The Khaled bin Sultan Living Oceans Foundation recently completed field research for one of the largest coral reef studies in history: the Global Reef Expedition. The Expedition traveled around the globe aboard the M/Y Golden Shadow surveying some of the most remote reefs on the planet. We spent the past five years conducting research to assess coral reef ecosystem health and resiliency, and now we are diving into our data, analyzing and publishing our scientific findings.
GOALS
The primary scientific goals of the Expedition are to map and characterize coral reef ecosystems, identify their current status and major threats, and examine factors that enhance their ability to resist, survive, and recover from major disturbance events like bleaching, cyclone damage, or crown of thorns starfish outbreaks. We also engage in outreach and education efforts to disseminate our knowledge of the health and resiliency of coral reefs. The results of our work are shared freely with participating countries as well as scientific and regulatory organizations and are used to develop management strategies for coral reefs.
COLLABORATIVE SCIENTIFIC RESEARCH
A core team of scientists from the Foundation is joined on each Global Reef Expedition mission by a team of multi-disciplinary scientists and participants from the host country. This collaboration is invaluable for the exchange of scientific knowledge and the distribution of our results.
The information we collect on the Global Reef Expedition helps to identify sites of high priority for protection and to develop conservation strategies that will mitigate human impacts and improve reef resiliency. Our hope is that this research will help preserve and protect the biodiversity, health, heritage, social, and economic value of these marine resources.
WHERE WE WORK
The Living Oceans Foundation conducts ocean exploration and research expeditions on coral reefs around world for the Global Reef Expedition as well as several other targeted research missions. The Foundation has supported research in the following areas:
Loading map...

GLOBAL REEF EXPEDITION MISSIONS
ATLANTIC OCEAN / CARIBBEAN: 2011 – 2012
Cay Sal Bank, Bahamas – May, 2011
St. Kitts & Nevis – June, 2011
Inaguas and Hogsty Reef, Bahamas – August, 2011
Andros and Abaco Islands, Bahamas – October, 2011
Pedro Bank, Jamaica – March, 2012
Navassa Island – March, 2012
Colombia – April, 2012
Galapagos Islands – June, 2012
Society Islands, French Polynesia – September-October, 2012 and March, 2013
Tuamotu Islands, French Polynesia – November, 2012
Gambier Islands, French Polynesia – January, 2013
Austral Islands, French Polynesia – April, 2013
Cook Islands – May, 2013
Fiji – June, 2013
Kingdom of Tonga – September, 2013
New Caledonia – December, 2013
Great Barrier Reef, Australia – September, 2014
Solomon Islands – November, 2014
Palau – January, 2015
INDIAN OCEAN: 2015