Our time in Cay Sal Bank is going fast – we've already reached our halfway point, marked by a short trip back to Freeport today. We've covered a lot of ground on the East side of the bank in a short time. The AGRRA coral and fish teams have completed 22 total dives on 18 survey sites, and the groundtruthing team has traveled over 240 miles collecting video of the seafloor at nearly 200 separate survey sites.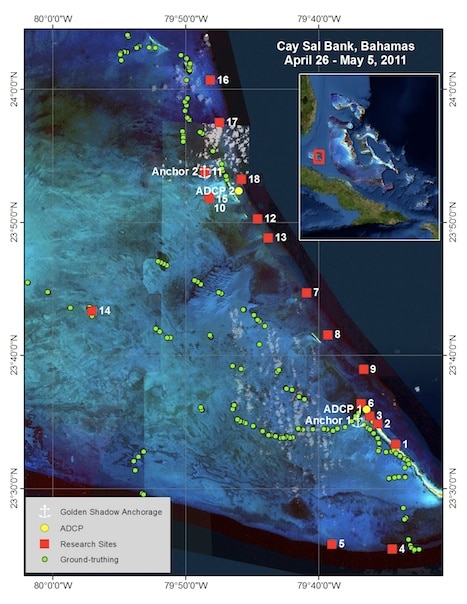 Before leaving our second anchorage at Damas Cays for Freeport, the expedition team gathered on the bridge deck to take a quick group photo. A couple of marine scientists would be returning to shore once we arrived, and we were sad to see them go. Many thanks to Leno Davis, Lindy Knowles, Indira Brown, Alex Henderson and Dr. Skinner for their work on the first leg of our journey!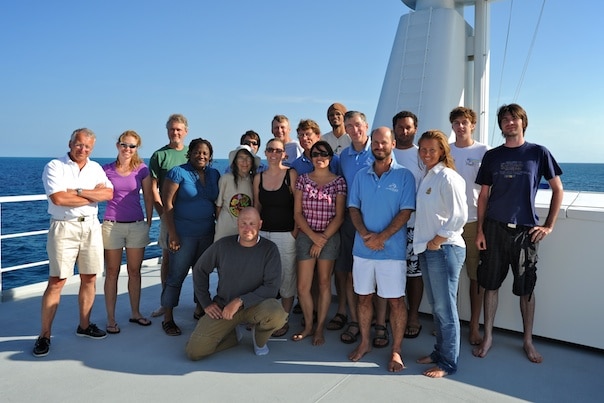 Once in Freeport, we said hello to our new marine scientists shipmates as they came aboard. We now have Tavares Thompson from the Bahamas National Trust and Bahamian students Alannah Vellacott and Alexio Brown aboard. They'll be joining our survey teams on our afternoon dives tomorrow. AGRRA data manager Ken Marks and Dave Grenda from the Reef Environmental Education Foundation (REEF) briefed the new team members this evening on coral and fish survey techniques, so they'll be ready to dive right in.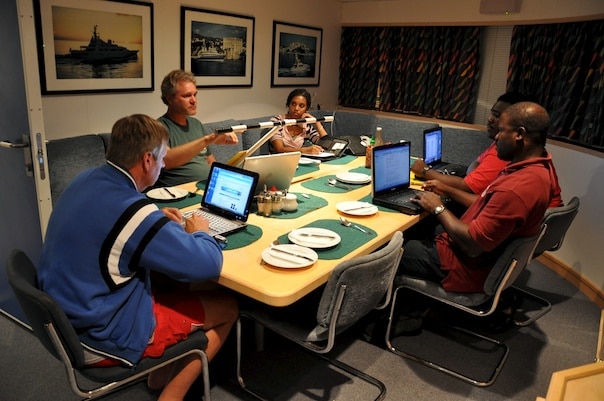 Last, but certainly not least, Sam Purkis from the National Coral Reef Institute and the leader of our groundtruthing team had a fantastic run-in with one of the locals out on the bank… we're really glad he didn't attempt to get an even closer shot!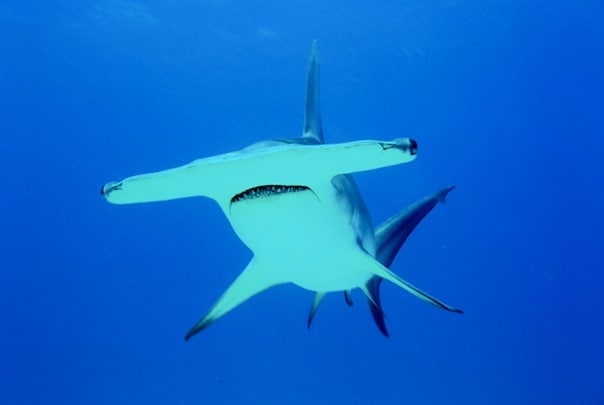 Don't forget to follow along on Facebook to get blog updates and see more photos! You can also follow the expedition on our Global Reef Expedition main page, where there is more information about our research and our team members.
Post by Liz Smith
(Image credit: 1. Amanda Williams; 2. Dan Catcheside; 3. Liz Smith; 4. Sam Purkis)
Explore all our latest news from the field