Conservation Photography
By Alison Barrat
From September 2012 to May 2013 we conducted one of the most extensive assessments of French Polynesian reef systems ever done. Our Scientists researched in four of the five archipelagos, Society Islands, Tuamotu, Gambier and the Austral Islands.  These research missions gave us a chance to compare and contrast reefs over a large area of human impact, and we're still working on processing the massive amount of data we collected.
But we wanted to share more than the scientific results; we wanted to share a glimpse of what the world was like on these remote reefs, to help people really connect with the creatures that live there. So in January of 2013 we partnered with Michele Westmoreland and the International league of Conservation Photographers to help us achieve that goal.
The International League of Conservation Photographers (iLCP) is a U.S. based non-profit organization established in 2005 with the simple goal of enlisting the skills and expertise of some of the world's best conservation photographers to help advance conservation efforts around the world. Michele Westmoreland is one of those photographers; she says "Coral reefs are one of the most spectacular environments to photograph. While reefs cover less than one percent of the ocean floor, they are critical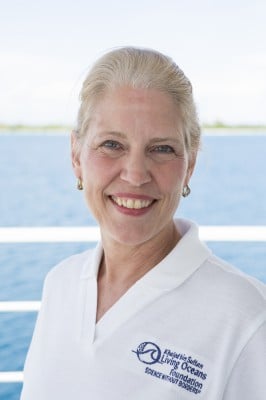 habitat for about 25 percent of all marine life. They come in many bright colors from red to green and an enormous variety of shapes. The creatures housed within them are equally as brilliant. But over the last 20 years it has gotten harder and harder to find reefs to photograph that are truly healthy and vibrant."
The Foundation has a strong emphasis on education and outreach. The data we collect, the habitat maps, reports and papers are all given back to the local communities, but we also use photos, films, live events and tours, social media and any other communication tool we have to convey on a visceral level what all the data means. We reach out to people in local and national government as well as people who make their living from the sea to try to gain support on the ground for any conservation recommendations we may have.
Our collaboration with Michele and iLCP provided stunning photographs that we have used in ocean conservation displays around the world. We hope you agree that these powerful images can inspire us all to act for better protection for our oceans.
---
Keith Ellenbogen, a photographer with iLCP, joined us for the Global Reef Expedition's mission to Palau and shares his best photos and tales of his adventure in an article in National Geographic Voices.