The Golden Shadow is back on the western shore of Great Inagua and the day has been packed with activity, as team members leave and arrive, new research projects are launched, and scientific surveys around Great Inagua continue. Early this morning we bid farewell to our Bahamian friends who have been on board since the beginning of the expedition helping with scientific surveys of Great Inagua and Hogsty Reef. Two new team members joined us today, Alannah Vellacott, a student at College of The Bahamas, and Tavares Thompson, Park Warden with the Bahamas National Trust.
One research team in particular is excited to begin following-up on previous research projects from the Cay Sal expedition (26 April to 18 May 2011). Team Parrotfish is studying herbivorous reef fish, and is made up of Dr. Sonia Bejarano, a Living Oceans Foundation Fellow, and Christian Clark, the current North American Rolex Scholar. Dr. Bejarano has been studying herbivorous reef fish internationally. In the Bahamas, these are usually species of parrotfish and surgeonfish. She is attempting to understand how many herbivorous fish live in an area (their abundance) and how much they feed in and around the coral reefs. During the Cay Sal expedition, Dr. Bejarano used fish counts and underwater video cameras to record herbivorous reef fish abundance and feeding behavior respectively.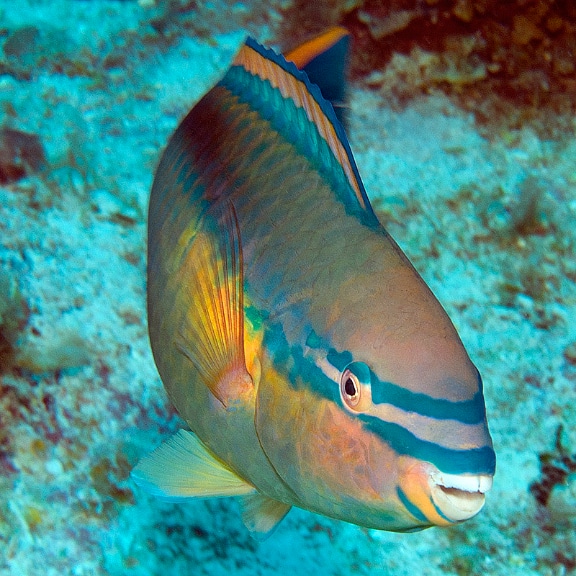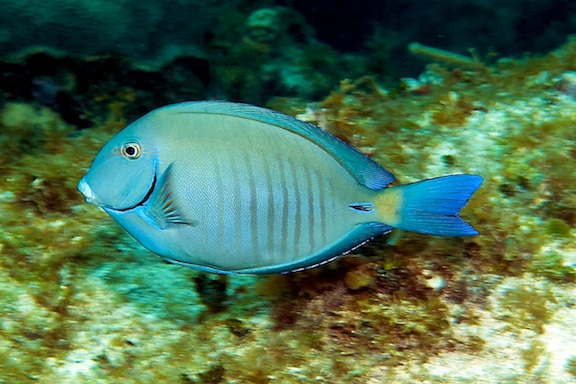 Assisting Sonia is Christian Clark, a recent graduate of the University of Hawaii, where he earned a Bachelor of Science degree in Global Environmental Science. Christian is a Divemaster, an accomplished scientific and technical diver and an avid photographer and videographer. He has been diving for over ten years and has logged more than 400 scientific dives. Among his scientific accomplishments, Christian studied shark migration in the Hawaiian Islands and has participated in three research cruises to Antarctica. As a Rolex Scholar and part of the One World Underwater Scholarship Society, Christian now has a year to explore career possibilities that combine his diving, research, and media communication skills to the best advantage. The Living Oceans Foundation is pleased to have Christian on board as a valuable team member and scientific diver.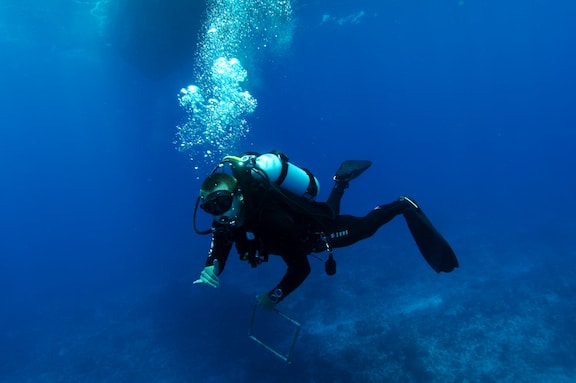 During the Inaguas expedition, Sonia and Christian will set up experiments to explore patterns in the abundance of herbivorous reef fish in relation to wave exposure in a particular area. In other words, if an area consistently experiences waves and strong currents, are there more or less herbivorous fish in this location? Revealing spatial patterns of the herbivorous reef fish in the Inaguas could contribute to scientific understanding of how well different reefs can cope with environmental disturbances that encourage algal growth. Dr. Bejarano's research results may influence future decisions about how and where to manage and conserve Bahamian reefs.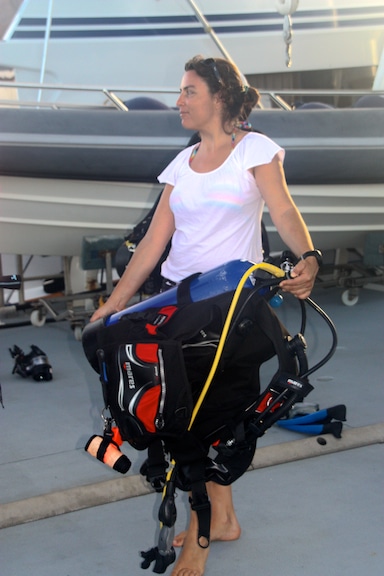 Written by Kit van Wagner
(Photo/Images by: 1 – 2 Ken Marks, 3 CAPT Philip Renaud, 4 Amanda Williams)
To follow along and see more photos, please visit us on Facebook! You can also follow the expedition on our Global Reef Expedition page, where there is more information about our research and our team members.
Explore all our latest news from the field