Mangrove Education and Restoration Blog
"A sea cucumber is a part of the phylum Echinodermata. Can anyone recall what characteristics animals in the phylum Echinodermata have?" asks Amy Heemsoth, Director of Education for the Khaled bin Sultan Living Oceans Foundation. As she asks this question, she slyly pulls out the sea cucumber from behind the desk, which she has kept hidden until now. When the students first see the alien-like creature, they erupt into a chorus of "ew" and "whoa." After the initial shock of seeing such a bizarre creature subsides, a student from the back of the classroom raises his hand and answers the question with both pride and glee, "They have tube feet!"
Students from William Knibb High School react to seeing a sea cucumber for the first time.
My name is Maggie Dillon and this is my first appearance in Jamaica for the Jamaica Awareness of Mangroves in Nature (J.A.M.I.N.) program. I have been interning with the Foundation for the past year and a half. When I'm not in class at St. John's College, I split my time between the Living Oceans Foundation education and science departments. As a senior, I'm trying to figure out what I might like to do after graduation. I would love to become a marine biologist; but educating people about the marine environment brings me a special joy.
After discussing my future interests with Amy, she asked me if I want to assist her with the J.A.M.I.N. program. Through this year-long school program, Amy educates high school students about their mangrove ecosystem, blending hands-on classroom and outdoor education learning methodologies. I find these teaching techniques very appealing. I could barely contain my excitement and my answer was a definitive "yes!"
Intern Maggie Dillon stands in front of William Knibb High School with two J.A.M.I.N. participants after a guided tour of the school.
I learned a lot from this experience, but my favorite part of the week-long program was bringing organisms into the classroom. Amy teaches the students about various food web concepts using the mangroves as an example. Students learn about the organisms in this ecosystem, how they are classified into phyla, and how they are all connected to each other in the food web. It's a hands-on way to learn about food webs, an important part of the Jamaican curriculum.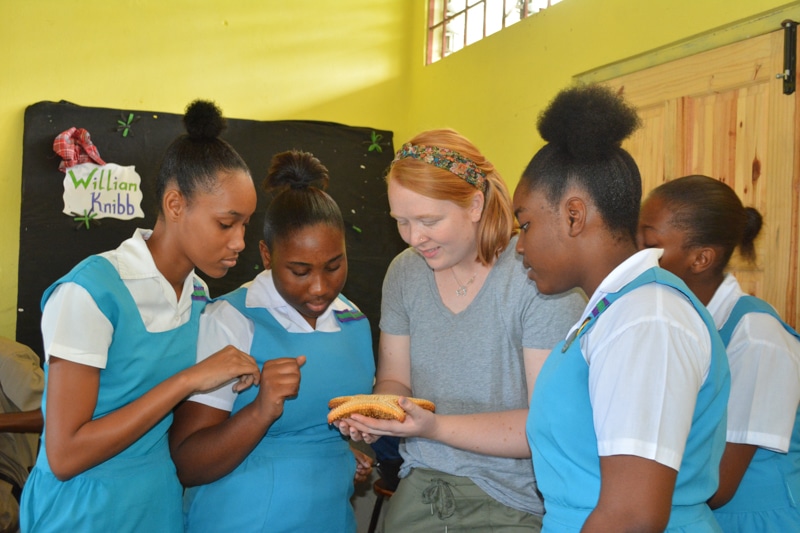 Students gather around Maggie in hopes of seeing a sea star's tube feet appear.
We run the program in two high schools, William Knibb and St. Hilda's. As we begin carrying buckets of animals to the classroom, students shout, "Hi Ms. Amy!" After she smiles and greets them back, Amy turns to me to explain that these are not students in the J.A.M.I.N. program; yet, they know all about it and today they have heard through word of mouth that we will be bringing animals to the school.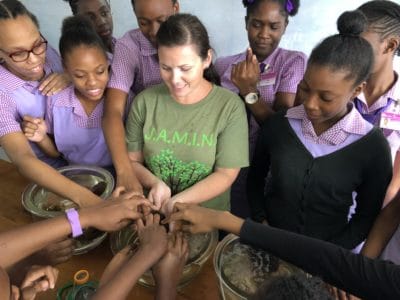 Amy Heemsoth smiles as students gather around her to touch a sea cucumber.
The excitement of the entire school is exhilarating. Even as we set up, students from other classes lineup at the door just to catch a glimpse of the animals. When the bell rings, J.A.M.I.N. participants flood into the classroom and jockey for the best spot to see the animals. This is the first time that most of these students have ever seen, much less touched, them. Amy asks them to stand around a long laboratory table and explains that everyone will be able to see the animals. I observe students from other courses sneak into the classroom trying to blend in with the other students. Amy and their teacher Ms. Nugent notice too, but she keeps on instructing.
Students at St. Hilda's High school reach in to gently touch the slimy skin of a sea cucumber.
While Amy is teaching, I showcase the animal that she is talking about, pointing out their different structures. After Amy is finished, she allows the students to touch or hold the animal with assistance. I aid them in this. The students' faces range from enthusiasm to varying levels of disgust and terror as they touch or hold the animals. After the initial shock wears off, they begin to ask me inquisitive questions such as "how do sea stars use their tube feet to move through the water?"
Watching a student switch from fright to delight when seeing a new creature is something that inspires me. Education is a powerful tool that allows students, teachers, and communities to come together to participate actively in conservation. As I look for careers to pursue in my coming years, I know that I want to continue to serve. I want to ignite in others the same fire and determination that I feel in myself. My time in Jamaica has only solidified this desire and made me more grateful for my experiences with the Foundation. I feel ready to find my place in the marine world.
Intern Maggie Dillon, William Knibb High School (left) students, and St. Hilda High School (right) students in the Year 1 J.A.M.I.N. program pose for a photo after a successful day of learning about the mangrove food web.
Explore all our latest news from the field