2011 Annual Report
(2011)
Please find an excerpt of the full PDF below

2011 Annual Report of the Khaled bin Sultan Living Oceans Foundation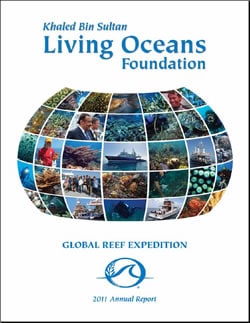 Our ambitious and highly anticipated Global Reef Expedition (GRE) began this year, marking 2011 as a milestone year for the Khaled bin Sultan Living Oceans Foundation. Planning for this complex project began in 2007 and GRE research operations are anticipated to continue through 2016; defining a new decade of advancements in surveying, mapping and conserving global coral reefs. The scale and scope of the coral reef crisis unfolding before our eyes demands bold and decisive actions and the Living Oceans Foundation is rising to that challenge.
The GRE began with multiple research projects in the Caribbean Sea. The choice for beginning our program in the Caribbean was compelling given that it's most efficient to circumnavigate the globe east to west and the Foundation had pre-existing relationships and research history with Caribbean countries.
In consultation with the Bahamian Government, it was determined that three remote locations had the highest priority for our survey and mapping capabilities: 1) Cay Sal Bank, 2) Great and Little Inaguas, and 3) Andros Island. Each of these sites had unique attributes and remarkable marine resources deserving of more active management and conservation initiatives. Our comprehensive mapping and coral reef surveys will arm the Bahamian Government with the scientific knowledge so essential to advance resource management.
The GRE also conducted research in the waters of The Federation of St Kitts and Nevis, located in the Leeward Islands of the West Indies. This project was in collaboration with The Nature Conservancy (TNC) due to their active involvement with St Kitts and Nevis marine resource management. The ex- tensive surveys we conducted there will be invaluable to the establishment of coastal zone management policies.
2011 was an exciting year for the Khaled bin Sultan Living Oceans Foundation and the GRE is off to a grand start…