2015 Annual Report
(2015)
Please find an excerpt of the full PDF below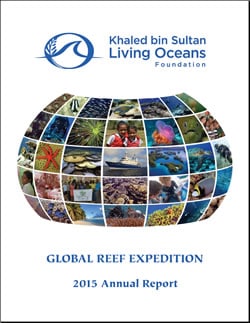 2015 marked an important milestone in our Foundation's life – completion of the field-work for our Global Reef Expedition (GRE). We circumnavigated the globe on the GRE, engaged with 15 different countries and surveyed 97 islands and over 1,000 individual reefs. However, the project is far from over as we bear down on the ominous task of analyzing the many terabytes of data we collected in five years.
In January, we surveyed Palau's coral reefs aboard our research vessel, M/Y Golden Shadow. Palau is a small island nation in the western Pacific Ocean with a land area smaller than New York City but surrounded by immense marine resources. What attracted us to Palau is their political will to conserve their marine environment. We hope that our Palau expedition contributed to the efforts leading up to the legislation championed by President Remengesau designating a huge marine reserve (500,000 square kilometers). Well done, Palau! President Remengesau stated that "Creating this sanctuary is a bold move that the people of Palau recognize as essential to our survival." Palau is on the right track.
In March and April, we conducted the final and longest mission of the GRE (six weeks total) to survey the coral reefs of the British Indian Ocean Territory (BIOT), an overseas territory of the United Kingdom (also referred to as the Chagos Archipelago). In April, 2010, the British government established the Chagos Marine Protected Area as the largest no-take marine reserve in the world. This collection of islands and reefs in the central Indian Ocean represent some of the healthiest reef systems in the cleanest ocean waters of the world far from human population. All of that being said, even the most remote reefs are feeling the effects of climate change as we observed (and documented) an active coral bleaching event on some of the BIOT reefs during our research expedition.
As we get to the hard work of analyzing data from the GRE, we are continuing to expand our Education and Outreach programs. One of the most exciting developments in 2015 was the creation of a Coral Reef Ecology Curriculum, an incredible resource for science teachers around the world. The Communications Department was also busy filming for our newest blockbuster documentary "The Missing Fish." Stay tuned for that film to be released!