2016 Annual Report
(2016)
Please find an excerpt of the full PDF below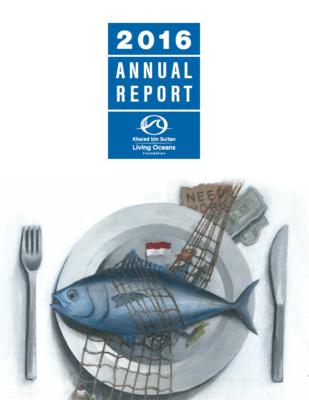 This past year was a very different year for the Foundation's staff, it was the first year in many that we were not occupied with field work aboard our research vessel in some far-flung corner of the world. Having completed an intensive five years of field work for the Global Reef Expedition in 2015, it was time to roll up our sleeves for the challenging analytical work ahead. I think the Pareto principle holds true in science, in that if 20% of your effort goes into data collection then 80% of effort is needed for data analyses, producing reports and driving outcomes (in our case that means influencing conservation of coral reef ecosystems).
To assist us in this endeavor, we hired two new staff members. Professor Sam Purkis joined our Foundation as our Interim Chief Scientist. Sam is affiliated with the Rosenstiel School of Marine and Atmospheric Science at the University of Miami and he is no stranger to the Living Oceans Foundation. Sam managed all the remote sensing and habitat map production activities throughout the entire Global Reef Expedition. Renee Carlton also joined the Foundation's staff in 2016 to manage the production of our final reports for each country we surveyed throughout the expedition. Renee participated in much of the expedition as part of the ocean acidification data collection team. Welcome aboard, Sam and Renee!
Our Education Department had an amazingly successful year conducting mangrove education and restoration projects in The Bahamas and Jamaica. Amy also launched our exciting Education Portal featuring a world-class curriculum on coral reef ecology. This new Education Portal has been recognized as one of the best new education resources on coral reefs. Congratulations, Amy!
The Communications team also had a great year. They co-produced a film with the Smithsonian Channel. The film, An Ocean Mystery: The Missing Catch, was selected as a finalist in the Blue Ocean Film Festival and went on to win the Conservation Award at the San Francisco International Ocean Film Festival. This film clearly reveals that fish stocks are collapsing worldwide and that much of the catch is never reported due to illegal, unreported, and unregulated (IUU) fishing, resulting in mismanagement of crucial fisheries. We also completed a six-part series about the Global Reef Expedition that highlights many of the threats facing coral reefs and what is being done to save them.
Perhaps the most exciting event of the year was the announcement by our Chairman, His Royal Highness Prince Khaled bin Sultan, that his daughter, Princess Hala was joining our Board of Directors! She brings a passion for the ocean, a love of scuba diving, and legal skills to our organization. Welcome Aboard, Princess Hala!