BIOT Field Report
(2015)
Please find an excerpt of the full PDF below

Between 7 March 2015 and 3 May 2015, the Khaled bin Sultan Living Oceans Foundation conducted two coral reef research missions to the British Indian Ocean Territory (BIOT) as components of our Global Reef Expedition (GRE) program. Our primary objectives were to map and characterize the shallow marine habitats and assess the status of coral reefs and coral reef species within 12 locations in BIOT. This is the field report resulting from that mission.
Khaled bin Sultan Living Oceans Foundation
August 26, 2015
By Andrew W Bruckner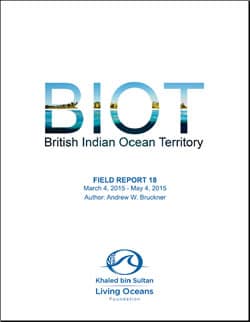 This mission was undertaken in partnership with scientists from NOVA Southeastern University, University of Queensland, James Cook University, University of the Philippines, National Museum of Marine Biology and Aquarium Taiwan, Woods Hole Oceanographic Institute, Scripps University, University of Hawaii-Manoa, the National Oceanic and Atmospheric Agency (NOAA), University of Miami, Our World-Underwater Scholarship Society®, and the Atlantic and Gulf Reef Assessment (AGRRA) program. The research focused on coral reefs and coral communities around 12 submerged banks, atolls and islands from 0-30 m depth.
Scientific Objectives:
The main objectives of the research were to map and characterize the shallow marine habitats and to ascertain the current status, health and resilience of BIOT's coral reefs. We acquired WorldView-2 multispectral satellite imagery for each area and conducted extensive bathymetry and drop camera surveys to classify depths and habitat types. This effort included
an evaluation of the geomorphology and biota of each distinct feature observed on the satellite imagery;
identification and characterization of different habitat classes and their bathymetry based on this evaluation, followed by possible revision and/or addition of habitat classes to correspond to other classification schemes used in the Pacific;
mapping of the spatial distribution and extent of each habitat type; and
mapping of the bathymetry from the shoreline to 25 m depth. Coral reef surveys focused on 3-30 m depth, targeting both fore reef and lagoonal sites.
In each location we completed replicate reef fish assessments (4 m X 30 m transects), coral assessments (1 m X 10 m belt transects), photographic transects (1 m X 10 m), and benthic assessments (10 m point intercept surveys)…