Cook Islands Field Report
(2014)
Please find an excerpt of the full PDF below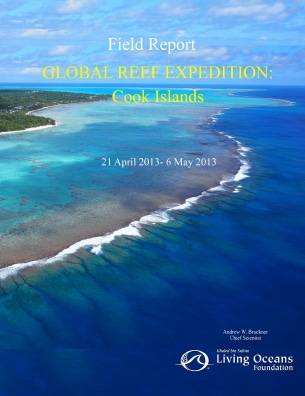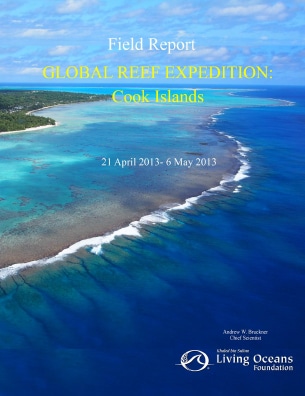 From 20 October, 2013 – 5 May, 2013, the Khaled bin Sultan Living Oceans Foundation conducted a research mission to the Cook Islands as part of the Global Reef Expedition. The research focused on coral reefs surrounding the islands of Rarotonga, Aitutaki and Palmerston. The project was conducted in partnership with the , with involvement of scientists from Nova Southeastern University, University of the Philippines, NOAA/University of Miami, Atlantic and Gulf Rapid Reef Assessment Program (AGRRA), the National Museum of Marine Biology and Aquarium (Taiwan), and University of Tasmania. Additional support was provided to the Cook Islands Marine Park Steering Committee to assist in discussions of the zoning and management of the new Marine Park. The objectives of the mission were to:
1) Identify and characterize shallow marine habitats and develop habitat and bathymetric maps;
2) Evaluate the composition, structure and health of coral reefs using a standardized assessment protocol;
3) Assess the diversity, abundance and population structure of fishes, corals and other invertebrates, and algae,
including commercially valuable species;
4) Document the impacts of broad scale disturbances and patterns of recovery with emphasis on storm damage
and crown of thorns predation impacts;
4) Evaluate the effects of environmental stressors on coral health and subcellular changes through biomarker
expression; and
5) Measure ocean chemistry (pH) and effects on coral growth.
Groundtruthing: A total of 406 sq. km of WorldView 2 satellite imagery was acquired. To characterize shallow marine habitats, 166 videos (drop cameras) and 1,055,627 depth soundings were taken across the three islands, covering a distance of 260 km. Georeferenced WorldView-2 imagery was used to plan bathymetric tracks to sample habitat locations of interest to drop video cameras. The bathymetric information will be used to calibrate a model which will assign a depth value to each pixel in the imagery data. Similarly, information from the camera drops will be used to assign a habitat type to the imagery data. Together, detailed maps of bathymetry and habitat type will be produced for the three locations visited.
Coral Reef Assessments: Surveys were conducted across the fore reefs surrounding three islands and in lagoonal areas, when possible. A total of 186 fish transects, 196 benthic surveys, 84 coral assessments and 204 phototransects were completed in 30 locations from 5-30 m depth. The population dynamics and health of over 5,800 corals, 4 cm diameter and larger were examined…