Coral Bleaching Hits Indian Ocean Reefs
(2015)
Findings of coral bleaching in the Indian Ocean from the Global Reef Expedition mission to BIOT were published on CBSNEWS.com.
CBSNEWS.com
May 19, 2015
Michael Casey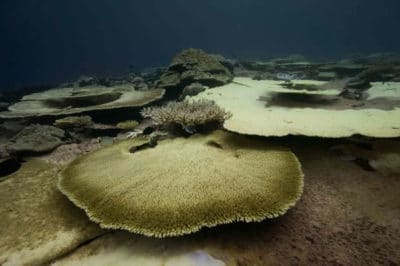 Coral bleaching has reached the Indian Ocean after ravaging reefs in the Pacific, raising the prospect that damage from warming seas and other stressors could soon be seen on a global scale.
Scientists surveying reefs last month in the remote British Indian Ocean Territory (BIOT), located about 600 miles south of the Maldives, recorded the telltale signs of trouble – stark white reefs and others with faded blues and pinks…
Read the article and view the photos. — Also check out the expedition blog, The Colors of BIOT.