Eastern Tech's Mareisha Banga in the running for an international art challenge
The Avenue News interviews 2020 Science Without Borders Challenge semi-finalist Mareisha Banga about how she combines her love of science and art. (2020)
The Avenue News
By Kaitlin Kulich
May 12, 2020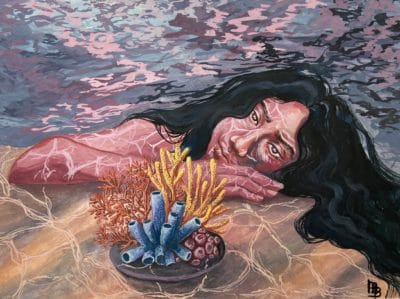 ESSEX—Mareisha Banga has combined her love for science and art into a painting, titled: Restoring the Reef, that has been chosen as a semifinalist for an international art challenge; Science Without Borders. The Avenue News reached out to Banga to learn more about her and her art work and how she is continuing her creative passions and projects despite schools being closed for the rest of the academic year.
Q: Tell me a little about yourself. How did you get involved with the visual arts?
A: Hello! My name is Mareisha Banga. I am a current seventeen-year-old student at Eastern Technical High School. Most know me for having a dual passion for both visual arts and science. Art has always been a part of my life since a very young age, as I was a very creative and crafty individual growing up. In elementary school, my first ever art teacher was my absolute favorite and had inspired me to dive more into the world of art. In middle school, this was when I began noticing my keen eye for detail and started to experiment with all types of art mediums, with watercolor still being my favorite. Once I got into high school, I wanted to continue to sharpen my skill and to explore even more.
Q:What grade are you in and are you taking any art classes at Eastern Tech? Any environmental classes?
I am a current junior and rising senior at Eastern Tech. I've taken two art classes at school, with last year's class being AP Studio Art. I'm planning on taking AP Studio Art again next year to hopefully focus on building a portfolio to send to colleges. This year, however, I couldn't fit an art class into my schedule, but that did not stop me from continuing my love and passion for making art. I am also taking AP Environmental Science this year which significantly inspired me to make my current painting called "Restoring the Reef".
This school year, I recently started a club at my school called Art Remedy Club or ARC, where we focus on improving the atmosphere of healthcare facilities through the implementation of art — promoting a more peaceful and relaxing environment for both the patients and workers.
As the founder of an art therapy-based club, I have essentially united both the aspects of science and art together in a harmonious way, graciously uplifting the lives of patients through the presence of visual arts in healthcare facilities.
Leading a group of students eager to make a difference in our local community, I have initiated a project that allows them to connect with patients through the power of creation. Unfortunately, due to the current COVID-19 circumstances, we weren't able to continue exhibiting our artwork this spring. However, we are planning on continuing our momentum into the next academic school year.
Q: How would you describe your style of artwork? What is your favorite subject to draw/paint and what inspires you the most?
My art style recently has been a mix of realism, an imaginative dream state, and science. When taking AP Studio Art last year, we were asked to build one of our portfolios centered around a certain concentration or theme. I chose "Stages of Sleep" as my concentration which allowed me to incorporate my fascination with the neurological processes of sleeping into my art. Then on, I went to make other artworks that incorporated a scientific element into it.
For most of my artworks, I have integrated an abstract and organic line work element within them. One of my favorite paintings, a self-portrait called "Marionette", for example, holds a heavy emphasis on line work. I wanted the hair to represent strings that were pulling and controlling me as if I were some puppet of society. Others include my "Stages of Sleep" concentration work which have this organic golden line embellishment surrounding the human figures that symbolize brain waves during sleep.
My favorite subject to draw/paint would be portraits and figures drawings. I love learning about anatomy and experimenting with the organic nature of the human body.
Q: How did you get involved with the Science without Borders challenge? When will you find out if you make it to the next round? Do you get any kind of prize if you win?
A: For most of my previous art competitions I have done in the past, I have always found them by searching through various social media platforms such as Twitter, Facebook, and Instagram. I was scrolling through Twitter one night and found a post about the Science Without Borders Challenge, which quickly sparked my interest as it dealt with significant environmental issues.
Thankful, I have been chosen as one of the semi-finalists amongst the 700 other students around the world who had submitted work in this international competition.
Since I've made it to the next round, one of the requirements has been to directly ship my painting over to the organization to who is holding the competition. Once all of the artwork from other students have arrived there, they will begin to judge the pieces and determine a first, second, and third place for both the middle schoolers division and high schoolers division. Each winning entry will be rewarded with a scholarship of up to $500.
Q: Can you go through the process of how you decided to create "Restoring the Reef"? Do you consider yourself a climate activist?
A: When drawing out the thumbnail sketches for the piece, there was a particular position in which I wanted the human figure to be in. I wanted the figure to be laying down, pondering the small little coral with 'uncertainty'. I searched online for references to look at before starting my piece, but in the end, I could not find a single one that would help me in painting the vision I had in mind.
So instead, one afternoon I decided to use myself as a reference and started to take pictures of myself sitting on the floor with my arms on the edge of my bed lying down and resting my head to one side. Similar to how a child would watch their plant sprout and grow, I wanted to capture that personal moment in my painting.
Upon submitting my artwork, we were asked to provide a short description of the piece. Here's what I wrote:
"Coral reefs are an immense necessity to the ecosystems of the world, with vital roles that enrich the life around us. Devastatingly, they have become the target of our own anthropogenic causes. Through its beauty and destruction, it is our duty as caregivers to preserve these reefs; to bring back what was once flourishing beneath our waters. This painting depicts the utilization of coral aquaculture: the process of cultivating coral aimed towards the conservation and restoration of reef life. Though it may look minuscule compared to the vastness of the oceans, placing these coral foundations initiates the great leap towards revival. The girl admires the coral with uncertainty, as the future lies in the hands of people like her — those willing to act and conserve the life of coral reefs."
Though I am not directly involved in youth activism, I have always seen myself on the sidelines cheering on the brave and powerful youth leaders that have propelled our generation into fighting against the issues we are faced with today. To me, they have been my source of inspiration. Similar to how they use their voice to speak up on prevalent issues, I wanted to use my art to evoke thought and reflection.
Q: How has taking classes virtually been going? How are you coping with all the changes this pandemic has brought on and do you have any advice for students who may be struggling right now?
A: Switching to virtual classes has definitely been difficult for us all, and I too have felt the wave of stress crashing down on me. However, it has opened me to opportunities I would have never had time for within a normal school year.
Recently, I've been volunteering my time with an organization called Aspire to Inspire Project. It is a volunteer-based art movement meant to encourage and support healthcare and other essential workers while simultaneously inspiring creatives to develop material for that cause. We have been creating virtual e-cards in support of the people on the frontline of the pandemic.
A couple of my closest friends and I have also recently started working on initiating our own project called OMNI, the Latin word for 'all', where we aim to shift the spotlight towards the stories, perspectives, and experiences current essential workers are facing during this pandemic. We believe that their stories hold a significant impact in helping to lessen the curve and to have people reflect upon their own decisions to stay at home.
My advice to students who feel unmotivated or are afraid to try new things, know that there are always opportunities at the door waiting for you to grasp. Use this time to start something new. It could be initiating a project you've always been wanting to do, trying out a new skill, or even sharpening your previous abilities.
Q: What do you plan on doing after high school? Anything related to the arts or natural sciences?
Both! I'm planning on majoring in neuroscience with a minor in visual arts for college. I have no intention of giving up one passion for the other and have always found a way to unify both fields. To most people, the relationship between art and science may resemble that of oil and water, but to me, it means a simple mixing of paint.