Fiji Field Report
(2014)
Please find an excerpt of the full PDF below

Between, 2 June 2013 – 28 June 2013, the Khaled bin Sultan Living Oceans Foundation conducted a research mission to the Lau Province of Fiji as part of the Global Reef Expedition. The research focused on coral reefs surrounding 11 islands: Totoya, Matuka, Moala, Fulaga, Kobara, Vanua Vatu, Nayau, Tuvuca, Cicia, Mago and Vanua Balavu.
Khaled bin Sultan Living Oceans Foundation
May 5, 2014
By Andrew W. Bruckner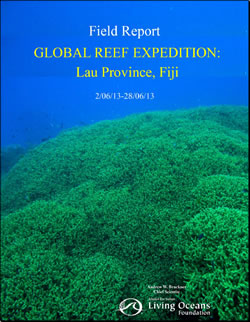 The project was conducted in partnership with the Wildlife Conservation Society of Fiji, Lau  Provincial Office and Fiji Department of Fisheries, with involvement of scientists from the University of the South Pacific, Fiji Department of Fisheries, Nova Southeastern University, University of the Azores, University of the Philippines, NOAA/University of Miami, Wildlife Conservation Society, National Museum of Marine Biology and Aquarium of Taiwan, Reef Environmental Education Foundation (REEF), and Victoria University. Roko Sau Joesefa Cinavilakeba (Pacific Blue Foundation and Vice Chairman of the Lau Provincial Council) and Roko Laitia Raloa (Lau Provincial Office) provided assistance with traditional protocols, meetings and deliberations with the Chiefs, Council and elders on each island, and education activities.
The objectives of the mission were to:
1) Identify and characterize shallow marine habitats and develop habitat and bathymetric maps:
2) Evaluate the composition, structure and health of coral reefs using a standardized assessment protocol;
3) Assess the diversity, abundance and population structure of fishes, corals and other invertebrates, and algae, including commercially valuable species;
4) Document the impacts of broad scale disturbances and patterns of recovery with emphasis on storm damage and crown of thorns predation impacts;
5) Evaluate the effects of environmental stressors on coral health;
6) Characterize the composition of symbionts (zooxanthellae) inhabiting colonies of Pocillopora, how they vary depending on environmental parameters, and how the variation effects photosynthetic efficiency; and
7) Measure ocean chemistry (pH) and effects on coral growth.
Groundtruthing: A total of 2,273 sq. km of WorldView 2 satellite imagery was acquired. To characterize shallow marine habitats, 787 videos (drop cameras) and 3,037,823 depth soundings were taken across the 11 islands, covering a distance of 798.2 km. Georeferenced WorldView-2 imagery was used to plan bathymetric tracks to sample habitat locations of interest to drop video cameras. The bathymetric information will be used to calibrate a model which will assign a depth value to each pixel in the imagery data. Similarly, information from the camera drops will be used to assign a habitat type to the imagery data. Together, detailed maps of bathymetry and habitat type will be produced for the three locations visited.
Coral Reef Assessments: Surveys were conducted across 11 islands. A total of 416 fish transects, 420 benthic surveys, 198 coral assessments and 417 phototransects were completed in 70 locations from 5-30 m depth. Over 29,625 corals, 4 cm diameter and larger were examined. A total of 448 species of reef-associated fish were identified during roving surveys. All roving surveys were entered by dive location into the REEF database…