Global Reef Expedition Background Information & Itinerary
(2015)
Global Reef Expedition Background information & Itinerary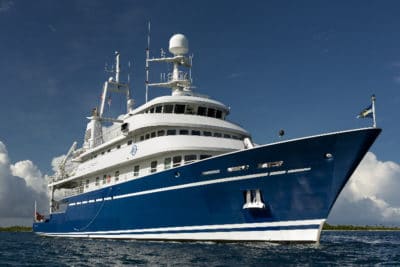 The Khaled bin Sultan Living Oceans Foundation is a non-profit environmental science organization and ocean research foundation based in the United States. We work to help preserve, protect, and restore the world's oceans and aquatic research through scientific research, outreach, and education. We are committed to conducting Science Without Borders®.
Throughout the past ten years, the Foundation has been conducting cutting‐edge coral reef ecosystem research in remote locations around the world. The Foundation's strength is in its multi‐disciplinary network of marine scientists, a state‐of‐the‐art research ship, dedication to applied science, and use of technology to conduct rapid ecological assessments.
In 2011 the Khaled bin Sultan Living Oceans Foundation launched the ambitious Global Reef Expedition program. The primary scientific goals of the Expedition are to map and characterize coral reef ecosystems, identify their current status and major threats, and examine factors that enhance their capacity to resist, survive and rapidly recover from major disturbance events. The resulting scientific findings will be shared freely with participating countries and scientific and regulatory organizations, and will be used by countries for developing sound management strategies for coral reefs.
The Expedition will provide the opportunity for coral reef researchers, in collaboration with local partners, to conduct management‐driven coral reef research. Together, the Foundation and local partners will explore, map and characterize coral reefs in remote locations and compare these to near shore reefs off populated coastlines.
Information obtained during the Expedition will assist in identifying sites of high priority for protection and in developing conservation strategies to mitigate human impacts and improve reef resiliency, in order to preserve and protect the biodiversity, health, heritage and social and economic value of these precious resources. The Expedition will enable scientists of many nations to conduct applied research on coral reefs that will provide information and tools needed to develop regional and global conservation measures to counter the most serious threats impacting these ecosystems.
Global Reef Expedition Itinerary
ATLANTIC OCEAN / CARIBBEAN: 2011 – 2012
Cay Sal Bank, Bahamas – May, 2011
St. Kitts & Nevis – June, 2011
Inaguas / Hogsty Reef, Bahamas – August, 2011
Andros / Abaco Islands, Bahamas – October, 2011
Pedro Bank, Jamaica – March, 2012
Navassa Island, Bahamas – March, 2012
Colombia – April, 2012
Galapagos Islands – June, 2012
PACIFIC OCEAN: 2012 – 2015
Tuamotu Islands, French Polynesia – November, 2012
Gambier Islands, French Polynesia – January, 2013
Society Islands, French Polynesia – March, 2013
Austral Islands, French Polynesia – April, 2013
Cook Islands, French Polynesia – May, 2013
Fiji Islands – June, 2013
Tonga – September, 2013
New Caledonia – December, 2013
Vava'u Island Chain, Tonga – July, 2014
Great Barrier Reef – September, 2014
Solomon Islands – November, 2014
Palau – January, 2015
INDIAN OCEAN: 2015
BIOT – March-April, 2015