Global Reef Expedition Prospectus
(2015)
Please find an excerpt of the full PDF below

ALL LIFE ON EARTH IS STRONGLY DEPENDENT UPON HEALTHY OCEANS. FUNCTIONAL AND RESILIENT CORAL REEFS ARE FUNDAMENTAL TO THE OCEAN'S ROLE AS A LIFE SUPPORT SYSTEM. MANY OF THE WORLD'S CORAL REEF ECOSYSTEMS ARE CRITICALLY ENDANGERED AND REQUIRE URGENT CONSERVATION ACTIONS BASED ON SOUND AND RELIABLE SCIENTIFIC DATA.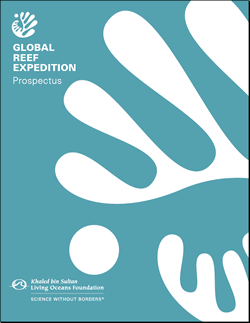 The Living Oceans Foundation, using the state-of-the-art research vessel Golden Shadow to support an international team of marine scientists, is initiating a multiyear (2011-2016) Global Reef Expedition program. Over $30 million in funding has been secured to support the research vessel operations and the scientific infrastructure for the Global Reef Expedition program. This core funding will facilitate unique scientific access to remote coral reef ecosystems that have been relatively unaffected by human-induced stressors. Comprehensive reef resilience surveys of remote coral reefs will yield critical scientific knowledge on the functional processes necessary to sustain reef health and promote rapid recovery from past damage. Comparing the ecological conditions between remote and relatively healthy coral reefs with reefs that have been compromised by chronic human-induced stressors will enable the Living Oceans Foundation to identify high-priority management interventions.
The anticipated principal outcome of the Global Reef Expedition is to provide applied scientific knowledge to local resource managers and relevant environmental government agencies, bridging science with management to achieve the long-term goal of ensuring healthy and sustainable coral reef ecosystems around the globe. The Foundation will provide knowledge of the critical ecosystem components that promote coral reef resilience and produce effective reef management tools/decision-aids that will influence policy and resource management actions urgently needed to improve and sustain global coral reef health. International research scientists will employ standardized protocols to map, characterize, and evaluate coral reefs throughout the western Atlantic, Pacific, and Indian Oceans, and the Red Sea. Comparative assessments of coral reef biodiversity, oceanographic conditions, and human pressures will reliably describe the status of coral reef health, identify major threats, and determine processes and factors that control the health and resilience of reef ecosystems worldwide.
However, conducting effective scientific research and developing conservation tools is only one part of a comprehensive conservation program necessary to halt the degradation of reefs. The scale and urgency of the Global Reef Expedition is unprecedented and calls for an equally bold educational initiative. The Global Reef Education Program will make use of the potential of new learning technologies to deliver the urgent message of coral reef conservation to learners; to create awareness of the direct contributions reefs make to their lives no matter where they reside.