Global Reef Expedition San Andres Archipelago, Colombia Field Report April 9-24, 2012
Bruckner, A. (2012) Global Reef Expedition: San Andres Archipelago, Colombia. Field Report. April 9-24, 2012. Khaled bin Sultan Living Oceans Foundation, Landover MD. pp. 52 (2012)
Please find an excerpt of the full PDF below

Global Reef Expedition San Andres Archipelago, Colombia Field Report April 9-24, 2012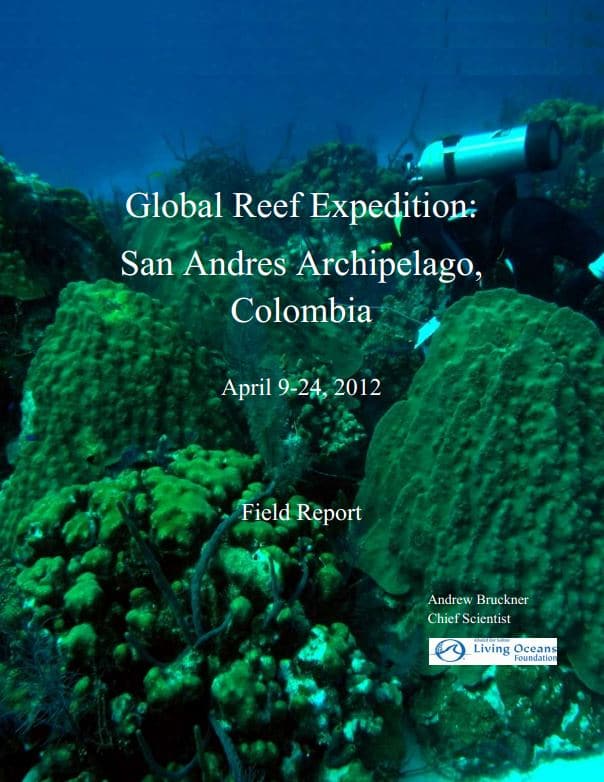 The Khaled bin Sultan Living Oceans Foundation (KSLOF), in partnership with CORALINA, completed a 15 day research mission (April 9-24) on three remote banks (Bajo Nuevo, Banco Alicia, Banco Serranilla) at the northern end of the San Andres archipelago. The research team included scientists from KSLOF; Colombian researchers from CORALINA, the Maritime Directorate (DIMAR), the Fisheries Secretariat, and the Fisheries and Agriculture Department; a Jamaican scientist from The Nature Conservancy; and international scientists from the National Coral Reef Institute (NCRI), the Florida Aquarium and the Atlantic and Gulf Rapid Reef Assessment Program. The main objectives of the mission were to 1) characterize and map the shallow marine habitats and 2) assess the diversity, abundance and health of important reef building corals, reef fishes and large motile invertebrates within these habitats. The non-invasive SCUBA surveys provided baseline data on the condition of coral reefs, with emphasis on organisms that are critical in maintaining healthy and resilient reef ecosystems, and on
commercially important invertebrates and food fish species. Using a combination of satellite imagery and in situ groundtruthing, habitat types within shallow (<30 m) water were identified and characterized, and the spatial distribution and extent of different marine habitats was determined; these data will be used to develop detailed high resolution habitat maps for the three banks.
The researchers were divided into the groundtruthing team (2) operating out of the Twin V, the conch team (8) operating out of two tenders and the coral team (12) operating out of the Calcutta. A total of 520 dives were completed for a total of 452 hours underwater. This includes 93 coral reef assessment (82 hours) and 38 conch survey (27 hours) dives on Alice; 164 coral assessment (160 hours) and 45 conch survey (67.5 hours) dives on Nuevo; and 93 coral reef assessment (85 hours) and 21 conch survey (31.5 hours) dives.
The three banks contained coral reef habitats, sand flats and hardground areas with seagrass beds identified only on Serranilla. Each bank differed dramatically in structure. While many of the common species of reef fish and invertebrates overlapped between the banks, there were unique species. In total, 200 species of reef fish and 38 species of stony corals were identified.
Alice, a completely submerged bank, lacked true coral reefs, mangroves and seagrass beds. Most of the bank is a hardground with low relief ridges and small patches of sand.