JAMAICAN STUDENT MANGROVE PROGRAM CELEBRATES 5 YEARS
(2019)
Partners with the Alligator Head Foundation
PORT ANTONIO, JAMAICA—Throughout Jamaica's history, mangrove forests across our beautiful island have been cut down in order to accommodate larger sandy beach areas and land development. Mangroves also provide a hardwood that can be processed into charcoal and sold, making forests vulnerable to illegal removal for their economic value.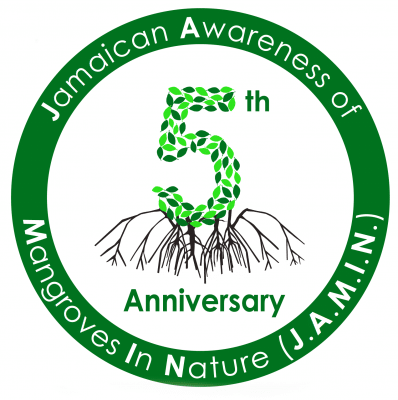 For the past 5 years, the Khaled bin Sultan Living Oceans Foundation has worked with Jamaican students in Falmouth and Brown's Town to teach them about mangroves and help them restore their local mangrove forest through the Jamaican Awareness of Mangrove in Nature (J.A.M.I.N.) program. This year, the Foundation partnered with the Alligator Head Foundation to bring the J.A.M.I.N. Mangrove Education and Restoration Program to students in the greater Portland area. This partnership allows more students to participate in the J.A.M.I.N. program than ever before and brings together two organizations that share similar goals to provide educational opportunities for the nation's youth.
With the project's celebration of their 5-year anniversary, Amy Heemsoth, the Director of Education for the Living Oceans Foundation, and Denise Henry, Research Programme Manager for Alligator Head Foundation, replanted the J.A.M.I.N. seed and invigorated Portland's teachers, students, and community members to get involved and appreciate their local wetlands. Their team of researchers and educators led high school students and facilitators through the Alligator Head Foundation's mangrove forests and nursery out-planting, taught the basics of mangrove biology through a series of captivating lectures, and completed a mangrove planting experiment for students to employ their newfound research techniques. "The fact that the kids are learning about environments they find within their communities provides better application of scientific concepts," states Henry. Participants learned about the interactions between mangrove dwellers, including who enjoys crab for dinner. (Answer: fish, birds, and humans.) Students had their own interactions with marine life when they handled sea snails, sea cucumbers, and hermit crabs.
This week, students from Titchfield and Port Antonio High Schools helped to restore the Alligator Head Foundation's mangroves by planting trees and cleaning up the forest. For the students, it was the culmination of the mangrove education and restoration program they participated in throughout the school year, and a chance for them to put the environmental conservation they learned into action.
"The J.A.M.I.N. program offers a well-rounded immersive learning experience that takes students beyond the classroom and into the outdoor environment," says Heemsoth. "Students who are more connected and understand the environment tend to do more to preserve and conserve it."
By participating in the program, students learned how ecologically important mangroves are to islands and coastal areas. They stabilize shorelines and protect the coasts from waves, they recycle nutrients, naturally filter sewage and runoff, and provide a nursery for marine fisheries. For the Caribbean, an area subject to tropical storms and hurricanes, mangroves play their part to mitigate destruction caused by severe weather. As tropical storms are projected to increase in severity due to climate change, the future of Jamaica's coastlines depends on the efforts of international and regional organizations, like Living Oceans Foundation and Alligator Head Foundation, in order to combat these impending consequences.
Titchfield High School Students Planting Mangroves
---