Palau's Archipelago — A Nation of Islands and Reefs
(2015)
This article, published in the Seven Seas travel magazine, was written by KSLOF science team member Keith Ellenbogen, a Fellow of the International League of Conservation Photographers (iLCP) during the Global Reef Expedition mission to Palau.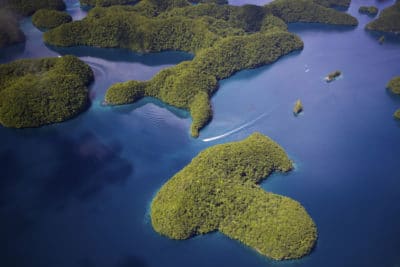 Seven Seas
November 2, 2015
By Keith Ellenbogen, iLCP
As part of the third iLCP Expedition organized with the Khaled Bin Sultan Living Oceans Foundation (KSLOF), I joined a team of scientists to explore the marine environment in the Pacific archipelago of Palau. The KSLOF is conducting currently one of the largest coral reef studies in history. Called the Global Reef Expedition, it is circumnavigating the globe surveying some of the most remote reefs on the planet, and iLCP photographers have joined them on a few keys stops to help document their finds. Recently iLCP's Michele Westmorland joined them in French Polynesia, and Jürgen Freund in Australia's Great Barrier Reef. It's now my turn to hop aboard the M/Y Golden Shadow to explore the reefs of Palau.
Palau is an archipelago located within the Western Pacific Ocean and is part of the Island group called Micronesia. Palau's Islands are made of limestone and covered by a mosaic of tropical plants that highlight the landscape with a luminous green. Beneath the surface (from an aerial point of view) tinted in shades of blue are vibrant coral reef communities that are teaming with life…
See article here#!Palau's-Archipelago-—-A-Nation-of-Islands-and-Reefs/cqcy/56379b2c0cf23796cd895f97