Reviving Mangrove Wetlands in the Bahamas
(2016)
This article featured in Tribune 242 highlights the Foundation's Bahamas Awareness of Mangroves (B.A.M.) program along with its phases, goals, and hopes for the future of reviving mangrove wetlands and inspiring stewardship of this vital ecosystem through out the Bahamas.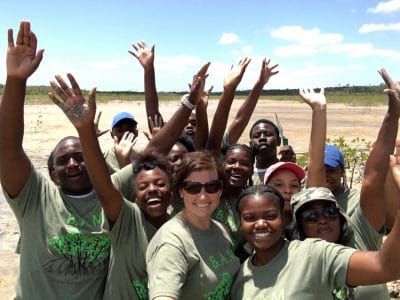 Tribune 242
April 27, 2016
By Edrinekia Gibson
FORTY-five students planted 135 baby mangrove trees in Camp Abaco last week after growing them in their classrooms throughout this school year.
The students, from Abaco Central High School and Forest Heights Academy, and their teachers, participated in a pilot programme called the Bahamas Awareness of Mangroves (BAM), a project about mangrove education and restoration.
The BAM programme was created by Amy Heemsoth, of the Khaled bin Sultan Living Oceans Foundation, in partnership with Friends of the Environment. Their main goal is "to deliver a message about conservation, and to help continue education about mangrove ecosystems here with Bahamian high school students," said Ms Heemsoth, the Director of Education at the Foundation.
"A lot of times when you're trying to promote conservation, it has to start with the youth," she said. "They're our future generation that's going to protect our resources, and help conserve them for the best."
In the first phase of the project, at the beginning of the school year, the tenth-grade students visited the restoration site at Camp Abaco, where they collected propagules, or mangrove seedlings, to grow and study throughout the year.
Back in the classrooms, they planted those seedlings in three different mediums – sand, pebbles and mangrove mud – and were able to take measurements and collect data weekly.
"They are actually doing a controlled experiment in the classrooms throughout those seven months," said Ms Heemsoth…