Scientists Create Giant Atlas of World's Most Remote Reefs
(2019)
Please find an excerpt of the full PDF below

April 24, 2019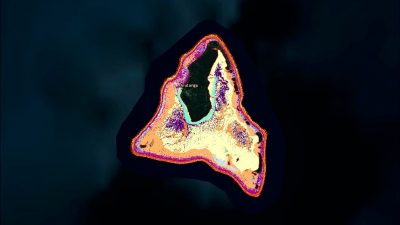 Coral reefs line shores around the world, but they're sometimes tough to spot because well, they're underwater. Now, a group of researchers has found that satellite imagery is capable of mapping reefs on a global scale. They've used the technology, along with field studies, to create the world's most thorough coral reef atlas to date—including some of the most remote reefs on Earth.
A study describing the atlas, published in the Coral Reefs journal last week, confirm that a mapping method typically reserved for individual reefs that stretch hundreds or thousands of square miles can map reefs on a much larger scale. Maps like this are key to reef conservation: Before we can figure out how to save reefs, we need to know where they are or how large they are.
Using satellites and field observations, the authors mapped more than 25,000 square miles of corals. They've published these maps in an online database called the World Reef Map where viewers can pop into the reefs from Fiji to Seychelles. In some locations, the map offers some actual underwater footage of what the reefs look like.
Gathering all these pieces wasn't easy. The team—whose researchers hail from the University of Miami Rosenstiel School of Marine and Atmospheric Science and Khaled bin Sultan Living Oceans Foundation, which funded exhibitions and provided the vessel to reach all the reefs—spent 10 years traveling across 11 countries to compile field information about more than a thousand coral reefs. The authors didn't map popular locations like the Great Barrier Reef in Australia; they sought the most understudied reefs, said author Sam Purkis, the chair of the University of Miami's Department of Marine Geosciences.
"We went to the most remote reefs, so mapping up the ones which we haven't mapped should be much easier because they're more accessible," he told Earther. "We did the hard bit first."