Smithsonian Channel celebrates Earth Day with "An Ocean Mystery"
(2017)
This article featured on realscreen highlights the Earth Day premiere of the Foundation's award-winning film 'An Ocean Mystery: The Missing Catch' on the Smithsonian Channel.
realscreen
April 4, 2017
By Selina Chignal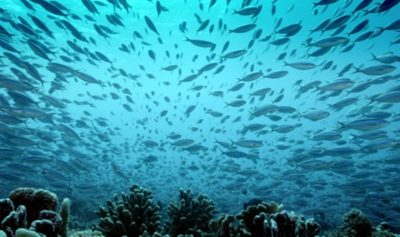 To celebrate Earth Day, Smithsonian Channel will air An Ocean Mystery: The Missing Catch, a documentary about a 15-year global investigation that reveals startling new findings on marine ecosystems.
The hour-long special follows marine biologist Dr. Daniel Pauly and an international team of scientists as they set out on an investigation to discover the number of fishermen who may be overfishing and how close global fish populations are to crashing.
The film also takes audiences to Honduras to highlight a pilot study conducted by Dr. Stephen Box, VP of global fisheries solutions at Rare, who created a cellphone app that makes it possible to collect comprehensive fishing data as it happens. With the app, even the most remote fishermen can send information about how much and what kind of fish they are catching to their national governments.
The film was recently awarded the Best Conservation Film at the 2017 International Ocean Film Festival in San Francisco.
An Ocean Mystery: The Missing Catch is produced by Khaled bin Sultan Living Ocean Foundation for Smithsonian Channel. Alison Barrat, of the Khaled bin Sultan Living Oceans Foundation, is executive producer/director/writer. Charles Poe and David Royle serve as the EP's for Smithsonian Channel.
Narrated by actor and conservationist Ted Danson, An Ocean Mystery: The Missing Catch premieres on Earth Day, April 22 at 8 p.m. ET/PT on Smithsonian Channel.