Solomon Islands Field Report
(2015)
Please find an excerpt of the full PDF below

Between October 26, 2014 and November 24, 2014, the Khaled bin Sultan Living Oceans Foundation conducted a coral reef research, outreach and education mission to map and characterize the shallow marine habitats and assess the status of coral reefs and coral reef species in the Solomon Islands. This report is a direct result of research conducted during that mission.
Khaled bin Sultan Living Oceans Foundation
May 27, 2015
By: Andrew W. Bruckner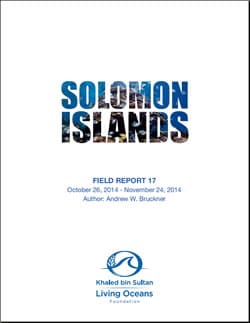 This mission was undertaken in partnership with scientists from University of Queensland, James Cook University, University of the Philippines, University of the Azores, National Museum of Marine Biology and Aquarium Taiwan, University of Hawaii-Manoa, Atlantic and Gulf Reef Assessment program, the Solomon Islands Ministry of Fisheries and Marine Resources, Catlin Seaview Survey, and OceansWatch. The research mission focused on coral reefs in five regions: New Georgia Islands (around Munda Village), Gizo Island, Arnavon Islands (Sikopo, Kerehikapa, and Malakobi Islands), Marovo and Nono Lagoon, and Santa Cruz Islands (Vanikoro, Utupua, Reef Islands and Tinakula).
Scientific Objectives
The main objectives of the scientific research were to
map and characterize the shallow reef marine habitats; and
conduct assessments and research to understand the current status, health and resilience of Solomon Islands coral reefs.
WorldView-2 multispectral satellite imagery was acquired for each area and extensive bathymetry and drop camera surveys were conducted to classify depths and habitat types. This effort included
an evaluation of existing habitat classes and possible revision and/or addition of habitat classes to correspond to other classification schemes used in the Pacific;
mapping of the spatial distribution and extent of each habitat type; and c) determination of the bathymetry from the shoreline to 25 m depth.
Coral reef surveys focused on 5-30 m depth, in both fore reef and lagoonal sites. In each location, replicate reef fish assessments (4 m X 30 m transects), coral assessments (1 m X 10 m belt transects), photographic transects (1 m X 10 m), and benthic assessments (10 m point intercept surveys) were completed…