The Khaled bin Sultan Living Oceans Foundation: Two decades of aquatic life exploration
(2019)
Please find an excerpt of the full PDF below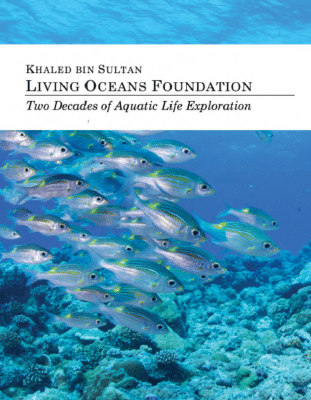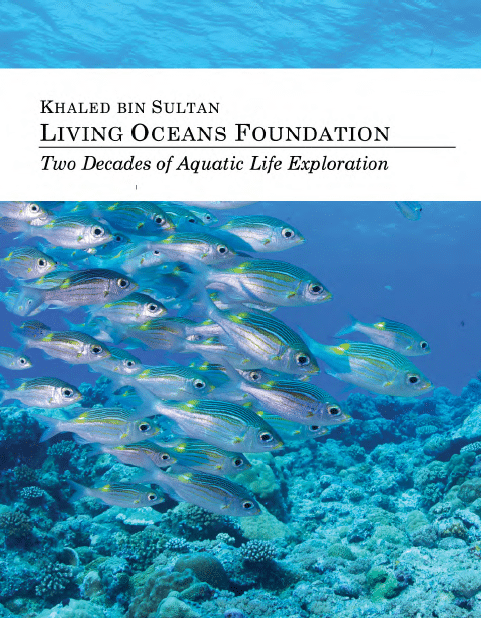 The Khaled bin Sultan Living Oceans Foundation is a nonprofit operating environmental science organization that was established by His Royal Highness Prince Khaled bin Sultan Al-Saud to help preserve, protect, and restore the world's oceans and aquatic resources through science, education, and outreach.
Prince Khaled witnessed the rapid deterioration of coral reefs as he granted scientists the use of his ship and resources to investigate the demise of coral reefs around the globe. Upon learning that climate change and numerous human impacts, such as overfishing and pollution, were contributing to the decline in coral reefs, the lungs through which the planet Earth breathes, Prince Khaled was inspired to do whatever he could to contribute to ocean conservation. So, he, along with a dedicated group of environmentally conscientious men and women, established a private operating foundation devoted to the conservation and preservation of our precious living oceans for the sake of generations to come.
The Prince agreed to fund the Foundation's operations for twenty years to allow scientists to provide science-based solutions to protect and restore ocean ecosystems in general, and coral reefs in particular. Understanding that the Foundation needed to work across oceans and political boundaries, and recognizing that collaboration is vital to ocean conservation, the Foundation made Science without Borders® the motto and the core philosophy of the Foundation. As such, the Foundation formed partnerships with scientists, conservation organizations, and local leaders around the world to leverage resources, commitment, and ideas necessary to make substantial progress in ocean conservation.
Since our founding in September 2000, the Foundation has used its three-pronged approach of science, outreach & communications, and education to conserve vulnerable coral reef systems. The Foundation has developed state-of-the art data collection techniques and collaborated with international teams of scientists and managers working harmoniously together to conserve our oceans. The Foundation also organized many large-scale scientific expeditions, including the Global Reef Expedition (GRE), the world's largest coral reef survey and high-resolution habitat mapping expedition in the history of mankind.
Over the course of five years (2011-2016), the GRE circumnavigated the globe surveying and mapping some of the most remote coral reefs on the planet. This expedition was done in collaboration with the governments of 15 countries, and 200 scientists belonging to 55 scientific institutions. During this expedition, scientists developed innovative protocols to map, characterize, and evaluate coral reefs throughout the western Atlantic, Pacific, and Indian Oceans to complement research we conducted in the Red Sea.
Now that the field research for the Global Reef Expedition is complete, the Foundation is sharing the scientific results with participating countries as well as regulatory agencies so they can be used by countries to develop management strategies to protect and restore their coral reef ecosystems.
The Living Oceans Foundation focuses on coral reefs because they are a keystone ecosystem for measuring the vitality of the entire ocean. Although coral reefs occupy less than 1% of the marine environment, more than 25% of all known marine fish species thrive in these delicate habitats, and one in every seven people on Earth rely on coral reefs for food or income. To raise awareness of the need to protect and preserve coral reefs, the Foundation runs robust education and outreach programs for students, stakeholders, and the public.
The Foundation has developed a state-of-the-art online Coral Reef Ecology Curriculum, where students and teachers can log on to learn about coral reefs and how they are connected to this unique ecosystem. Teachers can download lesson plans and educational materials, or they can set up classes on the online platform so that students can learn at their own pace, take quizzes, and earn badges while tracking their progress and engaging in interactive learning exercises. So far, over 4,000 students and teachers from 112 countries have signed up to access the Coral Reef Ecology Curriculum, bringing coral reef education to the next generation of ocean advocates. In addition to coral reef education, the Foundation conducts a Mangrove Education and Restoration program in Jamaica and The Bahamas. In these programs, students and teachers learn about the mangrove ecosystem while participating in a hands-on science project throughout the school year.
The Foundation also runs the Science without Borders®Challenge, a yearly art competition that engages students to raise awareness of the need to preserve, protect, and restore the world's oceans and aquatic resources. The contest incorporates marine science education into classrooms worldwide, inspiring students to be creative while learning about important ocean conservation issues.
At the Khaled bin Sultan Living Oceans Foundation, we know that studying and understanding our oceans is critically important, but to save our oceans we need to inspire people to protect them. Conservation and restoration of the marine environment calls for human action, and we believe that through targeted outreach, we can motivate people to take action toward lasting ocean conservation. The Foundation has a robust outreach program that supports our science and education efforts. We have created Emmy®award-winning conservation films that have been shown at film festivals around the world, broadcast on television, streamed online, and incorporated into our educational materials. These films transport viewers to places that they may never otherwise see, make complicated science easy to understand, and connect people in a visceral and emotional way to the incredible beauty of the natural world. The Foundation also reaches out to the public to encourage them to protect the oceans, leads students and teachers to our educational resources to improve ocean literacy, and communicates our latest science to stakeholders and decision-makers so they can make informed decisions on how to use and enjoy their marine environment.
Over the past twenty years, the Foundation's three-pronged approach to marine conservation has yielded many positive results for the ocean. Our work led to the development and expansion of Marine Protected Areas (MPAs) in Jamaica, the Cook Islands, and Fiji, and our scientific research is currently being used to inform marine spatial planning efforts across the South Pacific. Prince Khaled has received many awards on behalf of the Foundation including the Peter Benchley Award for Excellence in Ocean Exploration, the Fabian Cousteau Blue Award, and the Perseus Award for his contribution to ocean conservation.
The Foundation is now looking forward to building on our expertise, developed innovative research tool, and models by expanding our conservation efforts, finding new funding partners, and forming new international partnerships to safeguard coral reefs for the use and enjoyment of future generations.
Living Oceans Foundation 20th Anniversary Brochure