Elkhorn Coral (Acropora palmata) is an iconic species on Caribbean coral reefs.  The yellow-brown, broad branches resemble elk antlers; and so the common name.  These wide branches can grow to lengths reaching over 2 meters (~6 feet) and construct vital vertical reef habitat.  The complex coral structure in turn creates habitat for myriad reef fishes and invertebrates.  The essential habitat provided by Elkhorn Coral makes this species a keystone of the reef's structure.  This is especially true in waters from 1-5 m deep where they are most commonly found.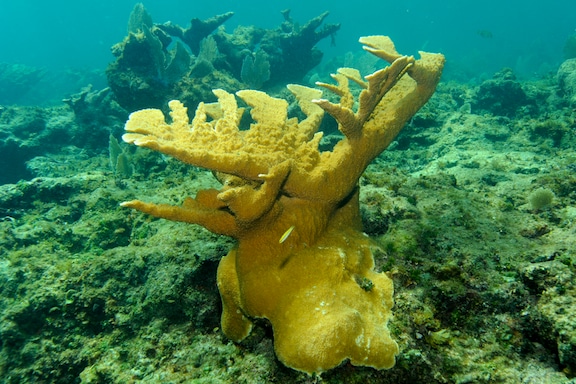 Unlike most coral species, Acropora palmata grows very quickly in shallow waters – generally adding from 5-10 cm each year.  Compare this to star corals that may grow about 1 cm a year and you can understand this dramatic difference.  Elkhorn Corals are also able to start growing new colonies when branches break off (fragment), often due to high waves during a storm event, in the shallow waters they prefer.  This also helps them to maintain a high growth rate.
Unfortunately, the long-term survival of Elkhorn Coral is threatened.  The world's authority on the conservation status of species, known as the International Union for Conservation of Nature (IUCN), has listed Acropora palmata as, "Critically Endangered."  This is the highest risk category assigned by the IUCN and means that a species' numbers have decreased, or soon will decrease, by at least 80%.  Acropora palmata has suffered drastic reductions throughout the Caribbean, with as much as 90-95% of the species being lost in some regions due to multiple causes, many not well understood by scientists.  Critically Endangered is the last stop on the IUCN's list before a species is considered extinct.  The Khaled bin Sultan Living Oceans Foundation's Chief Scientist, Dr. Andrew Bruckner, contributed greatly to the collective efforts that went into getting this coral species listed with the IUCN as Critically Endangered.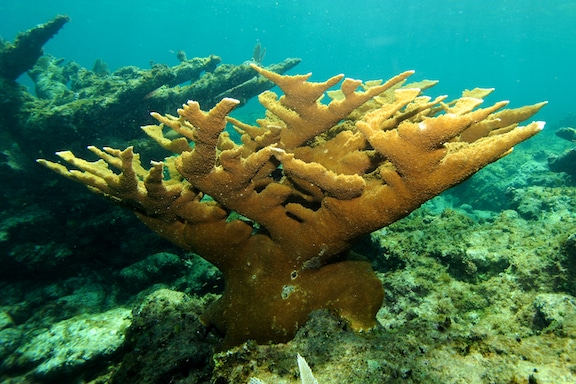 Elkhorn Coral has become highly endangered due to a combination of factors.   For example, many coral diseases have emerged in recent decades, including the 'white band' disease that attacks all Western Atlantic species of Acropora palmata.  Corals may be particularly susceptible to diseases when they are stressed by poor water quality and an overabundance of nutrients in the water, frequently caused by coastal development and inadequate sewage treatment techniques.   In addition, Acropora palmata is damaged and killed by predacious snails and damselfish, algal overgrowth, and changes in temperature and salinity caused by human impacts such as global climate change and natural cycles like the well-known El Niño and La Niña Southern Oscillations.
However, some good news for Elkhorn Corals may be emerging in Great Inagua.  Initial surveys by Global Reef Expedition scientists have turned up several rich populations of living Acropora palmata.   Several of the Elkhorn Coral colonies that have been surveyed in recent days do not appear to be as badly affected as in other areas of the Bahamas.  It is too early in our research to reach any conclusions, and these findings still need to be confirmed, with a careful analysis of data collected throughout this expedition, but the research team on the Inaguas expedition is cautiously optimistic that an area of Acropora palmata worthy of management may have been located.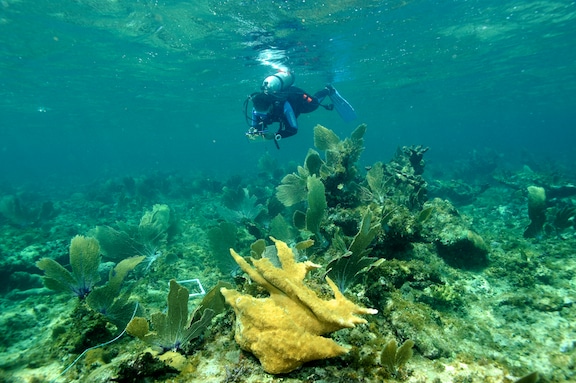 Written by Kit van Wagner
(Photo/Images by:  1 – 3 CAPT Philip Renaud)
To follow along and see more photos, please visit us on Facebook! You can also follow the expedition on our Global Reef Expedition page, where there is more information about our research and our team members.
Explore all our latest news from the field