Today, for the first time, we're not alone. We are anchored in the lee of Cayo Serranilla, the largest of the few islets at Serranilla Bank. There's a lighthouse on the island that doubles as an outpost for the Colombian Navy, and once a month a Coast Guard ship comes to trade out personnel. That ship is anchored just across the lagoon from us.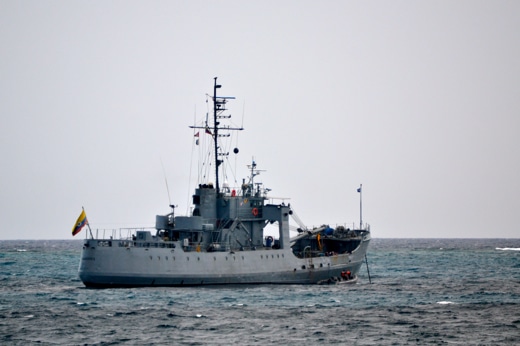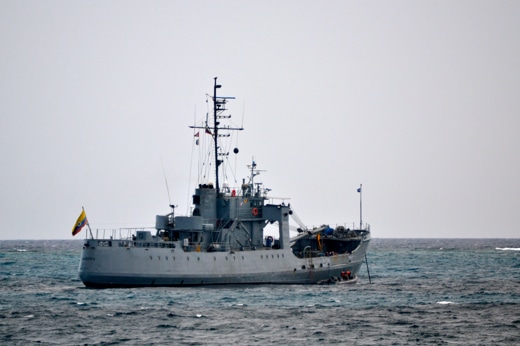 We have an observer from the Colombian Navy aboard and he went ashore this morning with team member Judy Pacheco, who is along to study the region's seabirds. On most days, she goes out on the main dive boat and while everyone else is on the bottom, she's topside with her binoculars out. She's seen seven species, like royal terns, frigate birds, and the snowy egret that landed on the ship and took a stroll down one of the hallways.
Seabirds like frigates grab enough fish and other animals from the water and return enough, let's say processed material, that they're actually significant players in marine ecosystems. But, like so many animals, their numbers have been declining, in this case because of problems like people eating their eggs, accidental catches by fishermen, and loss of their coastal nesting habitat.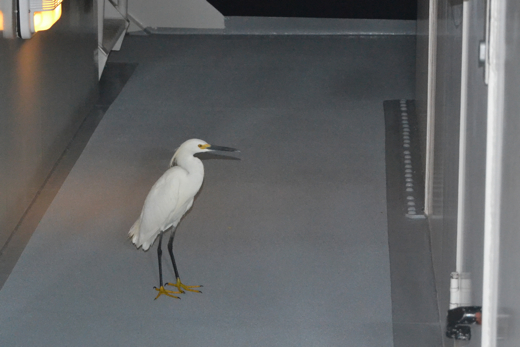 The archipelago's northern islands, including Cayo Serranilla, have been important nesting and migration resting spots for multiple species historically. Judy only spotted a few seabirds on the island, though on past trips her colleagues have found more. She was also checking tide pools for an endangered snail that's a key food for certain seabirds.
Dive operations have been running smoothly, though it's been especially difficult to find good dive sites. As usual, the information we have to go on is limited. "I don't know how accurate these charts are," chief officer Andy Breach said on our first morning scouting the reefs, "I'm looking at breaking waves very close."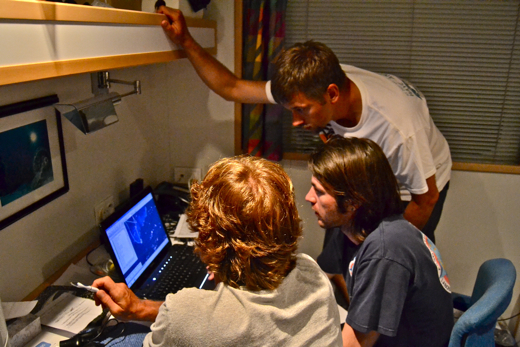 The patch reefs he expertly weaved through looked nice from the surface, but they were too shallow for us to work on, particularly given that the seas were still rough enough to slosh us about. So, we went to the outside of the barrier reef and kept searching.
This place is quite different from Bajo Nuevo. The bottom is mostly hard ground, but with only scattered corals. Still, the last dive today was a good one. We came to a large depression 30 meters or so across with a white sandy bottom, and rocky ledges all around with plentiful fish and a good bit of coral.  The circle was like a theater, with pairs of divers running surveys all around.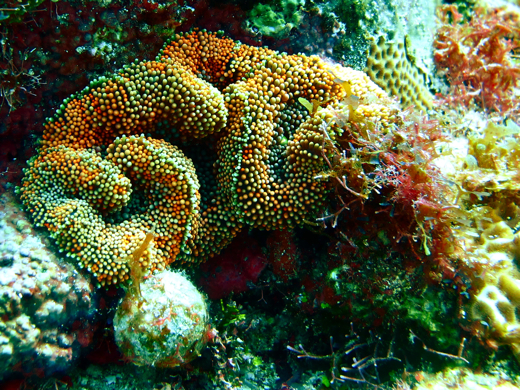 Some of us poked around under the ledges looking at fish, lobsters, and the occasional arrow crab or banded shrimp. It was the first time in several days that we've found lionfishes. These are an invasive species from the South Pacific introduced in the Atlantic a few years back that have been spreading throughout the Caribbean and beyond.
At one point a loggerhead sea turtle about 2 meters long dropped in to see what we were doing. It swam along the edge of the ledge, went right up to diver Mike Haley for a look, then, it's curiosity apparently satisfied, headed off into the murk. At a different spot on the reef, some dolphins dropped in to check on the conch team (see video here).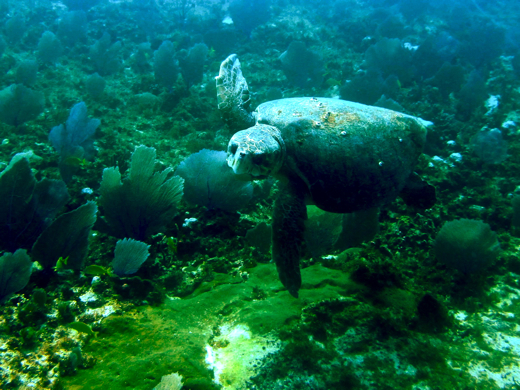 Thankfully the seas are calming down a touch. We'll be spending one more day here at Serranilla, then finish out the mission back at Bajo Nuevo. The forecast says it should be getting calm, so we're looking forward to the chance for further exploration.
(Photos/Images by: 1-3 Mark Schrope, 4-5 Brian Beck)
To follow along and see more photos, please visit us on Facebook!  You can also follow the expedition on our Global Reef Expedition page, where there is more information about our research and team members.
Explore all our latest news from the field