Science Without Borders®
Science Without Borders ® is the overarching theme of the Khaled bin Sultan Living Oceans Foundation.
His Royal Highness Prince Khaled bin Sultan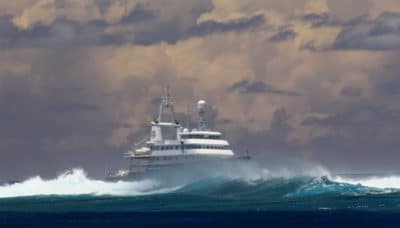 of the Kingdom of Saudi Arabia understands the challenges of conserving Earth's coral reefs across oceans and political boundaries, and recognizes that scientific collaboration is vital to ocean conservancy. Inspired by the working approach of  Medecins Sans Frontiers, Prince Khaled proposed that Science Without Borders® be the motto and the philosophy of the Living Oceans Foundation.  As such, the foundation has formed partnerships with scientists and conservationists around the world to leverage resources, commitment, and ideas necessary to make substantial progress in the grand challenge of ocean conservancy and sustainable usage.
Note: First use of this service mark by the Living Oceans Foundation in the United States was recorded on December 3rd, 2000.  The service mark "Science Without Borders ®" was officially registered on September 9, 2003, with the United States Patent and Trademark Office under Reg. No. 2,760,882.   The registration was renewed for a ten-year period on January 3, 2013. The mark is also registered with the Registrar of Trade Marks in Australia as Trade Mark No. 1092400 and with the European Community as Trade Mark Reg. No. 4756797. Protection of the trademark has also been registered in the Kingdom of Saudi Arabia. The purpose mark is to provide financial sponsorship of marine conservation programs and scientific research and to promote public awareness of the need to preserve, protect and restore the world's oceans and aquatic resources.