Today we continued exploring the reefs in the northern portion of the Farasan Banks and several team members surveyed the mountainous Abu Latt (Al Lith Island) Island. The islands sandy beaches are important hawksbill nesting grounds, with twelve tracks observed in one area.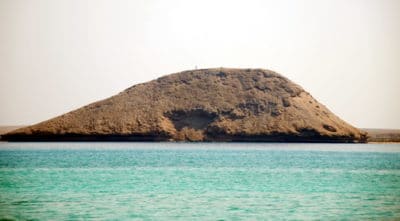 The highest point on Al Lith Island, known locally as Jabal Al Lith
The uplifted limestone terraces that make up much of the island were laden with fossil corals, mollusks and other organisms derived from a relict pliocene-pleistocene carbonate platform, which grew on ancient salt deposits.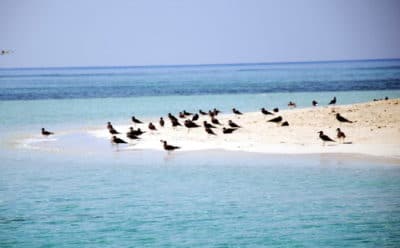 White-eyed gulls on the beach.
The island has a rich and diverse bird life on the island, including several endangered and threatened or near threatened species. Highlights included the endemic Red Sea white–eyed gull (Larus leucophthalmus, classified as Near Threatened on the IUCN Red List 2004), boobies, and osprey. One of the most interesting birds, Eleonora's falcon (Falco eleonorae) is an endangered species found in Europe, most commonly in Greece, with small populations wintering in the Red Sea and Indian Ocean, especially around Madagascar. It breeds in late July, primarily on unpopulated islands in the Mediterranean, the young hatch in August, followed by a migration south, with the birds hunting insects (especially migratory butterflies) around islands and over the sea.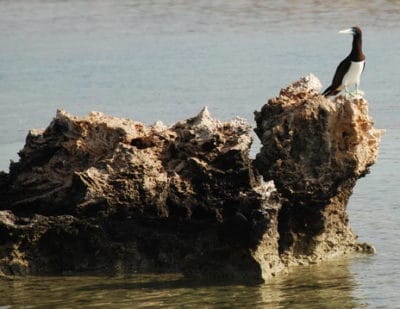 A common seabird of the Farasan Banks, a booby.
As mentioned yesterday, Al Lith is an important urban center with a population of about 150,000. The coastal town was once an important port and is now the gateway to the Farasan Banks. The town is formed around a large number of dry (intermittent and ephemeral) river beds known locally as "Wadis". These have a long-standing history in supplying Al Lith with water for domestic use and irrigation, but this only occurs during times of heavy rain Much of the freshwater originates in the Sarawat Mountains, a long mountain chain that runs for hundreds of miles parallel to the west coast, inland from the coastal plain.
Explore all our latest news from the field