It's not every day that you can look out your window and see a coral reef in your own backyard. For students of the Government Primary School (GPS) in Matamaka Island, Tonga, this story is a reality.
Matamaka Provides Unique Opportunity for Outdoor Education
Everyday students from this school look out over the turquoise colored waters viewing a small inlet filled with seagrass beds and patch reefs. These students had never before seen what was underneath the surface of these beautiful waters. The Vava'u Environmental Protection Association (VEPA), a Non-Governmental Organization (NGO) in Tonga, opened the eyes of students of Matamaka to the underwater world through a very unique outdoor education project.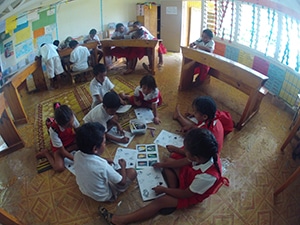 Students at GPS Matamaka learning the different fish species.
In September 2012, using donated materials and little funding, VEPA started a coral restoration project in the shallow waters of Matamaka. Two different coral nurseries were set up – one north of the jetty in approximately 20 feet of water and another south of the jetty in shallow waters about 10 feet of water. Rebar was welded together to create one meter by one meter square artificial reefs for the corals to grow on. After the rebar was put into place, 40 coral fragments including multiple coral growth forms were attached to the rebar using zip ties. The coral fragments that were collected came from previously damaged corals.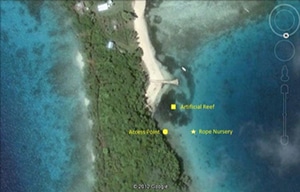 Map of coral nursery sites.
Matamaka Students Monitor Coral Nursery While Snorkeling
As part of the outdoor education project, students and teachers in Matamaka were trained how to monitor the coral nursery. Every week the students collect data on the coral nursery while snorkeling. The data collected includes temperature, date, and time. Additionally, for each coral is the type, length, and color (using Reef Watch Color Chart) are recorded. Each student was also given a different indicator fish that they counted while snorkeling. Students also note any coral predators like sea stars and snails that could eat the corals. Finally, in order to keep algae from growing over the corals and killing it, they take brushes and clean the algae from the rebar.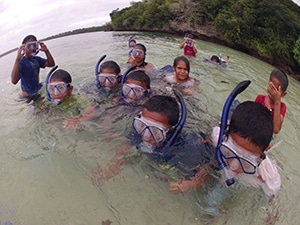 Unique Outdoor Education Opportunity: GPS Matamaka students getting ready to snorkel in order to observe what is happening at the coral nursery.
"Having the school children monitor and measure the coral reef helps to empower them in managing and protecting their reefs so that they may be used sustainably for generations to come," states Karen Stone, the VEPA Coordinator who organized this outdoor education project.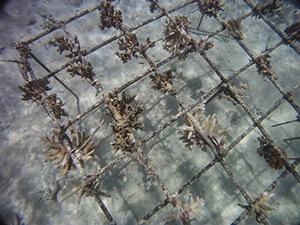 Coral nursery in Matamaka.
Outdoor Education Pilot Project for Coral Restoration and Rehabilitation
VEPA hopes to use this pilot project to develop reef rehabilitation methods to assist communities in learning more the coral reef ecosystem and also having a plan in place to rehabilitate them in the case of destruction like a tsunami or cyclone.
"VEPA has four focus areas aimed at insuring biodiversity and conservation increasing knowledge exchange and securing sustainable livelihoods. The focus are biodiversity and conservation, education and awareness, resource development, and legal requirements." For more on VEPA go to www.vavauenvironment.org.
Photos: 1-4 Karen Stone
Explore all our latest news from the field