Mangrove Education and Restoration Program Blog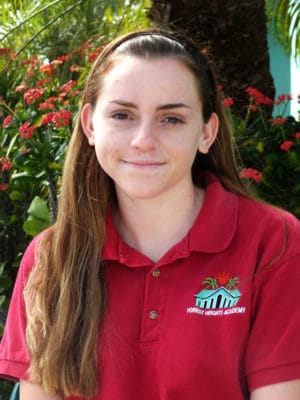 A guest blog by Shania Roberts, Grade 11, Forest Heights Academy and participant in the Bahamas Awareness of Mangroves (B.A.M.) program.
---
During this whole mangrove experiment with the Bahamas Awareness of Mangroves Program (B.A.M.) I have become more aware of the benefits of the mangroves all over Abaco as well as how we could be doing more to protect them. I think the B.A.M. program is pretty cool and gives many a chance to experience things they wouldn't normally. Personally, before starting this project I did not know much about mangroves besides the basic four types and a few facts. It is even cooler to go out and actually observe the mangroves when learning about them.
Our aim in the project was to see if mangroves grew better in pebbles, dirt, or sand. We had each previously picked six propagules to plant in our substrates from the mangrove field trip. Over the course of a few months we would record weekly how much our propagules had grown and if they started getting leaves. It was awesome to grow our own young mangroves. During this time, we would learn more and more about the growth of mangroves.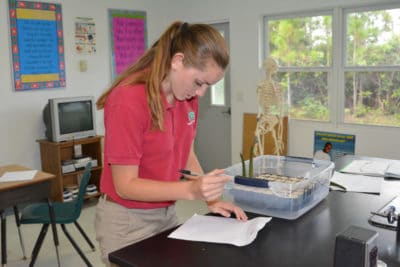 Measuring and recording the growth of our mangrove propagules.
Just a few weeks ago we went out to the mangrove wetland to plant our baby trees. It was a very memorable moment walking through the sinking mud and planting them. We also got to see what substrate the mangroves are normally growing in (mud in this case). The smell and texture is not the best. The few field trips we went on in this project were very beneficial. Each time, I learned new things.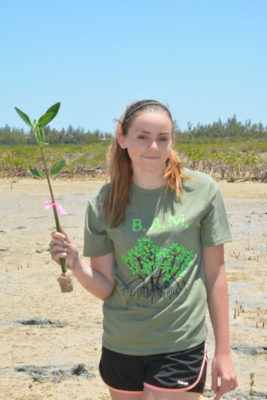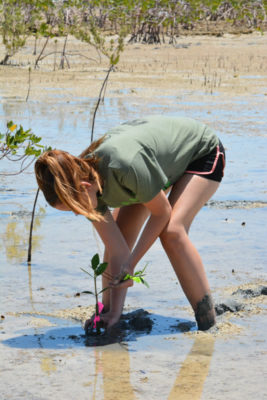 Here I am planting mangrove propagules in the stinky mud.
I would definitely do this project again if I got the chance. The B.A.M. project was a very eye opening experience. Now that I have done this project I have been more self-conscious of littering. My outlook on the mangroves is more cognizant as well. Next year, I really hope to participate in this project again.
Explore all our latest news from the field