The conservation efforts of New Caledonia are some of the most progressive we've seen in the South Pacific. There is a clear commitment from the government, Provinces, and local communities to conserve their marine resources. One way of doing this was through the establishment of Le Parc Naturel de la Mer de Corail. This park was designated to protect the natural and cultural heritage of New Caledonia, enforce sustainable use of its marine resources, and develop an internationally recognized marine conservation area that will contribute to the conservation of marine habitats globally.
A common problem with many of the marine parks we've surveyed lies in the lack of nearshore regulations, protecting the valuable nearshore reef habitats and fish populations. In many areas, fishing pressures from local communities are either unchecked or minimally checked, leaving the fish communities at risk of collapse. New Caledonia has tried to address this by creating strict fishing regulations in the northern Entrecasteaux Atolls and Cook Reef. However, around Ile des Pins and Grande Terre where most of the population lives, regulations are lacking. As a result, we found that these areas, particularly around Ile des Pins, had few large fish and would benefit from stronger fishing regulations.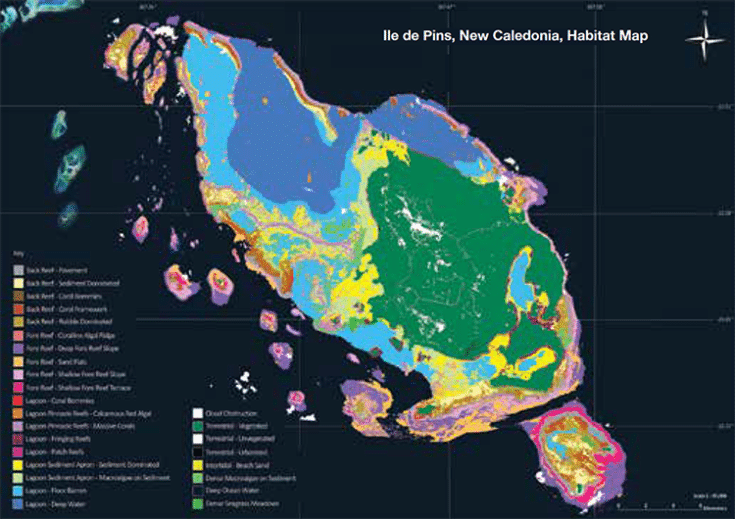 As part of the GRE, we were able to create high-resolution habitat maps that can be used by the government, community leaders, and managers to help establish no-take, no-entry areas. Habitat maps, along with the data collected on the GRE, can provide valuable information on the benthic and fish communities, highlighting areas that might need further protection. The fish populations and benthic habitats are closely tied and when one is damaged, such as through overfishing, it can have a negative effect on the other. Using high-resolution habitat maps, such as those developed by KSLOF, can help managers more precisely select and designate conservation areas. Numerous studies from around the world have shown that no-take, no-entry areas can have significant benefits in conserving nearshore fish populations and valuable benthic habitats.
We believe that with continued commitment from the government, Provinces, and local communities, conservation of New Caledonia's marine resources can be some of the best in the world.
Learn More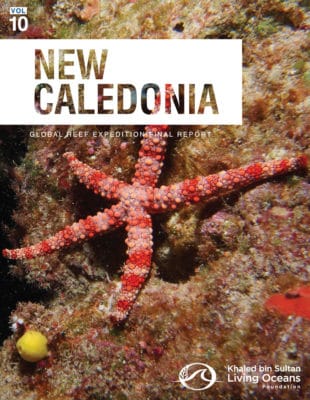 For more detailed information on our work on coral reefs in New Caledonia, read our latest publication, the Global Reef Expedition: New Caledonia Final Report.
All images on this page by Ken Marks
Explore all our latest news from the field