The overfishing of sea cucumbers is detailed in our Fiji report. Here are some observations on sea cucumber fishing that we made during our research in Fiji in 2013.
June 2013
Throughout the Lau Province it's typical to find sea cucumbers drying in the sun. The dried sea cucumbers are called beche-de-mer. These sea cucumbers fetch a good price and for some islands it has become their primary source of income.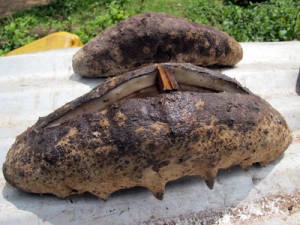 Processing the Sea Cucumbers
This fishery is practical and easy for Fijians because it requires no refrigeration, which is limited in these remote islands. To process these animals, they are first boiled. Then they are placed in salt for up to three days. This helps to dry and season the sea cucumbers. Afterwards, some are boiled again and laid in the sun to dry. For larger specimens, the sea cucumber is slit open, the internal organs are removed, and a stick is used to hold the body cavity open for quicker drying.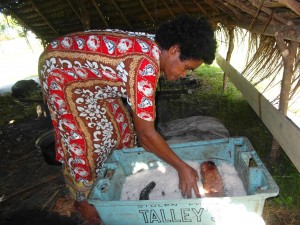 Price of Sea Cucumbers
When the sea cucumbers are harvested, they are often sold to a middleman in the village. The middleman buys the sea cucumbers either at a rate per piece or per kilogram. They in turn sell this to the middleman of the larger companies who are seeking them. The problem is that in most cases the village is getting undercut by a larger company. For example, in Natokalau village on Kabara Island, the white teatfish gets sold at $40 per kilogram, but these sea cucumbers regularly go for $180 per kilogram in Fiji's capital, Suva.
One price doesn't fit all when it comes time for payout. There are some species of sea cucumbers like the white teatfish that draw a much higher price.
Here is an example of prices that the Natokalau village middleman pays:
| | | |
| --- | --- | --- |
| Sea cucumber species (Fijian name) | Weight price per piece – small | Weight price per piece – large |
| White teatfish | $10-20 | $48 |
| Surf redfish (tarasea) | $2 | $4 |
| Brown sandfish (vula) | $1 | $2.50 |
| Blackfish (loaloa) | $2 | $4 |
| Prickly redfish (sucudrau) | $2 | $4 |
| Reef lollyfish (lollyfish) | $2 | $2 |
| Stonefish (dritabua) | $1 | $4 |
NOTE: All money is in Fijian dollars (1 FJD = 0.53 USD).
The High Price of Overfishing Sea Cucumbers
Villages are finding it more and more difficult to find sea cucumbers. Fiji Department of Fisheries are conducting cucumber surveys on the Global Reef Expedition (GRE) and the results are grim.
Fisheries Officer William Saladrau states, "We are finding less than one sea cucumber per hectare. This shows that there is overfishing sea cucumbers across the Lau Province."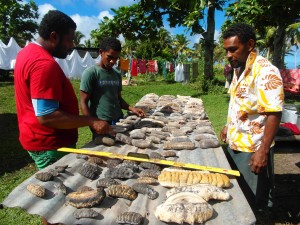 Overfishing sea cucumbers comes at a greater price. Recently, two young men in the Lau group died while fishing for sea cucumbers. Fijians risk their lives by diving deeper and deeper for sea cucumbers.
Dr. Stacy Jupiter, Director of the Wildlife Conservation Society and participant on the GRE Fiji, expresses another concern. "Once the population density gets too low, sea cucumbers will be too far apart and fertilization is unlikely. We still don't know very much about the reproductive biology of these animals, but data suggests for some species that fertilization success falls to zero when animals are spaced more than 20-40 m apart."
Rebuilding the Population
Despite overfishing sea cucumbers and the resulting low sea cucumber populations, we believe there is still hope. It may be possible to enhance reproduction by collecting animals from the wild and placing them in enclosures. By corralling the animals (e.g. by increasing their density), spawning is more likely to result in successful fertilization of gametes.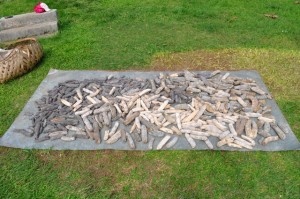 Additionally, the Khaled bin Sultan Living Oceans Foundation is working with members of Fiji Locally Managed Marine Area (FLMMA) network to bring awareness of overfishing sea cucumbers to islands in the Lau Province. We educate local communities about sustainable fisheries including sea cucumber removal rates and minimum size limits so that sea cucumbers are able reach sexual maturity.
"The demands of the sea cucumbers market have satisfied our people with their financial needs in terms of support for education, housing, community development projects and other village and religious obligations; however, due to our remoteness little has been done to educate them on sustainable fisheries and management of marine resources to sustain them for future generations," states FLMMA Eastern District Representative and Pacific Blue Foundation Director for Community and Government Relations, Roko Sau (Roko Josefa Cinavilakeba) and GRE Fiji participant. "Through research and education provided by the GRE mission, we will be able to make sound decisions regarding our local marine resources."
Photos/Images by: 1 Stacy Jupiter; 2-3 Ron Vave; 4 Amy Heemsoth
Explore all our latest news from the field