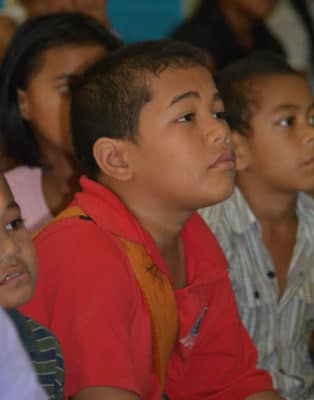 After our GRE research mission last September, we decided to return to conduct education research – another Foundation's first. The willingness of the Tongans and overwhelming outpouring for coral reef education, not only from the government, but from local communities and schools, makes Tonga a great partner for this pilot program.
Last year, when we were in Tonga we gave coral reef seminars to just over 2,300 students, communities, government officials, and tourists throughout the Ha'apai, Vava'u, and Niuatoputapu island groups (Learn more.) To be successful, we needed to go to schools that didn't receive the seminars in 2013. In Vava'u, we only conducted the seminars in two high schools due to semester break. With twenty-three other schools in mainland Vava'u, we decided that this would be a good spot to test our pilot program.
In order to do so, we re-enlisted the help of 'Apai Moala who was part of the education team in 2013. We also worked closely with the Ministry of Education in Vava'u.
Due to the complexity of the student surveys, we targeted secondary schools.  The student surveys are designed to determine the effectiveness of our education seminars and videos, assess attitudes towards coral reefs, and measure knowledge retention.
Additionally, we also asked teachers and administrators from all grade levels to participate in an educator-needs assessment survey. This survey will determine basic demographic information; the types of resources teachers have and need in order to teach about coral reefs; comfort level teaching various topics regarding coral reefs; and training that they would like to have in regards to coral reefs.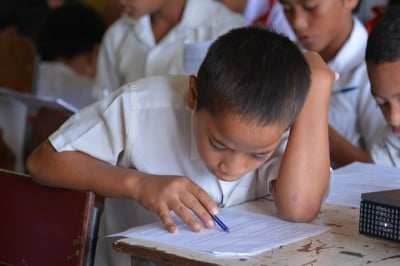 Overall, we provided seminars to 18 schools and approximately 1,600 administrators, teachers, and students. Of the 18 schools, we were able to conduct surveys in eight schools at a variety of grade levels.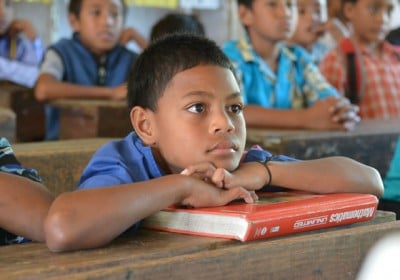 Initial results show that few schools are teaching information regarding coral reefs; however, after listening to the coral reef seminar, teachers and administrators see a need to teach this information to their students.
One teacher stated, "This is a very fruitful message – the information you have given. We really need for you to come back as soon as possible."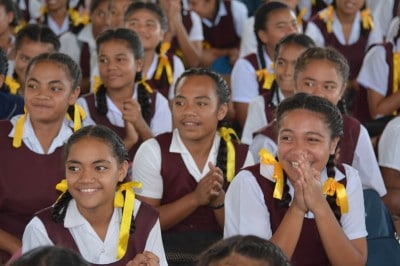 Many teachers expressed that they too didn't know the information and that there is a need for teacher education as well as student education.
Our next step is to analyze the data collected. The results will be provided to all the schools that participated in the survey as well as the Tongan government. We plan on returning to Vava'u in 2015 to conduct a knowledge retention and action survey, which will help us to understand whether students are retaining the information from the seminars and determine if they have changed their actions that may harm coral reefs. We look forward to continuing to work with our Tongan partners to determine next steps in the project.
Photos by: 1 Toni Saul; 2-4 Amy Heemsoth
Explore all our latest news from the field