Written by Olivia Patterson Maura
Expedition Log: Caribbean Mangroves – Day 2
Friends of the Environment (FRIENDS) is so thrilled to partner with the Khaled bin Sultan Living Oceans Foundation (KSLOF) to bring mangrove education and restoration to The Bahamas! Bahamas Awareness of Mangroves, or B.A.M!, is an effort to help increase community appreciation for and understanding of one of The Bahamas' most important ecosystems.
FRIENDS is a small non-profit organization that was established in Hope Town, Abaco, Bahamas in 1988 as part of a grassroots movement to encourage greater respect and custodianship for the environment. With a mission to preserve and protect Abaco's marine and terrestrial environments to achieve sustainable living for the people and wildlife of Abaco, the original founders worked to involve other members of the community, especially students, in local conservation. The organization has sustained this approach to conservation since its inception.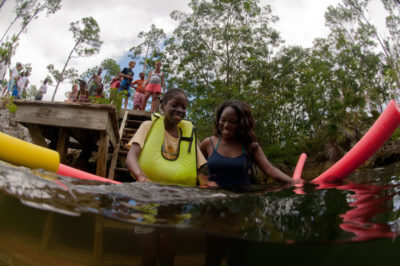 A student learns to swim at FRIENDS summer camp
Since our formal education program began in 2006 we have offered approximately 12,000 environmental experiences for Abaco's students. Through field trips, school presentations, clubs, summer camps, science fairs and other outreach activities we have been able to introduce Abaco's youth to the beauty and importance of their environment and encourage their stewardship as environmental ambassadors.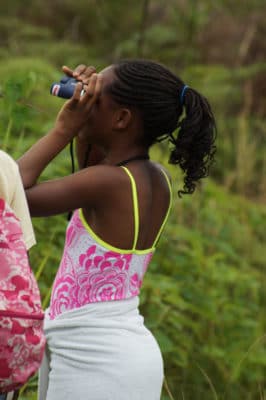 FRIENDS takes students on field trips to experience nature
FRIENDS' success has been made possible through partnership and we are so excited to work with KSLOF Education, who bring a wealth of experience and global knowledge about mangrove conservation, while FRIENDS can facilitate connections with the local community.
This month, we began the first phase of B.A.M., which familiarized students from two Abaco high schools with a local mangrove wetland. Throughout this school term, the students will be continuing their investigations of mangrove ecosystems by conducting an experiment on which substrate mangroves grow better in: sand, mud, or pebbles. The second phase of our project will happen in the spring of 2016, when KSLOF will return to Abaco and help us facilitate a mangrove restoration using the plants grown by students. This program is a great example of how locally relevant conservation activities can be tied in to standards for learning that are required by the Bahamian curriculum. We hope to build on the success of this partnership by working with more schools in the future with the hopes of having this project eventually adopted into the Bahamian curriculum.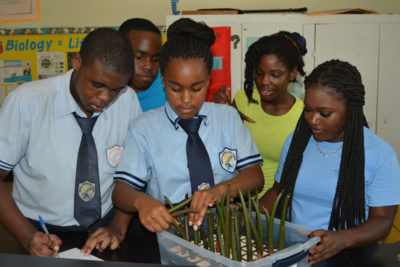 Cassandra Abraham, FRIENDS Education Specialist, helps students plant mangroves as part of the B.A.M. Program.
For more information about FRIENDS, visit www.friendsoftheenvironment.org.
Photos: 1&4 Amy Heemsoth, 2-3 FRIENDS
Explore all our latest news from the field