Over the last few weeks, you've heard a lot about our SCUBA surveys, what we've seen, and the health and resilience of these reefs. One of our major goals during this Expedition is to identify areas of rich biodiversity, as well as areas that are likely to persist and rapidly recover following regional disturbances, such as a major bleaching event.
We are characterizing the coral reef communities, both in terms of the community composition and size structure, looking at different habitats and depths.
A major portion of this effort is closely linked to the activities of our "above water" team, Sam Purkis and Gwilym Rowlands, who spends long days transiting the area to complete their groundtruthing activities. This is no easy task, given the vast amount of area they are covering (over 12,000 square kilometers), potentially rough seas, and intensely hot temperatures.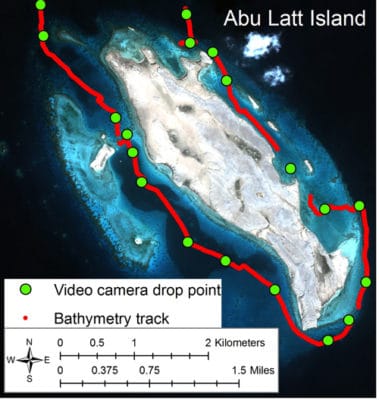 Abu Latt Island groundtruthing track.
Using high resolution multispectral satellite imagery, they are able to navigate across complex reef structures, through narrow and very shallow channels, across deep water lagoons, and into shallow grassbed and mangrove habitats to collect detailed information on depth, habitat features, and sub-bottom characteristics.
They will use this information to classify different habitats and ultimately develop detailed habitats maps for the Farasan Banks. These maps will allow managers to identify specific areas for conservation, determine the size of these areas, and their boundaries. They are also an important tool that can help target sites for future monitoring efforts. When linked with our underwater SCUBA surveys, we can identify locations that should be protected, such as critical areas for designation as no-take marine protected areas.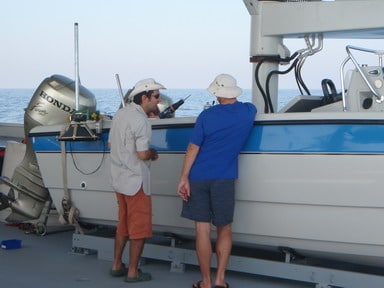 Sam and Gwilym discussing the groundtruthing.
Read on to learn more from Gwilym about the sophisticated approach they are using to better understand the geomorphology of the Farasan Banks:
The foundation draws on a variety of remote-sensing tools to map and monitor coral reefs in the Red Sea. To this end, a team of researchers from the National Coral Reef Institute (NCRI), Nova Southeastern University, USA is dedicated to collecting necessary ground-truth and acoustic data. Points of interest are identified from prior analysis of high-resolution (2.4m) satellite imagery.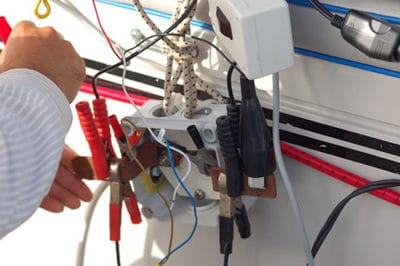 Delicate wiring all of the devices needed in groundtruthing.
A tethered video camera linked to a very accurate GPS unit is then used to collect short video clips of the sea floor at these positions. These images are used to train habitat classifications, which are based on the unique reflectance properties of different sea floor components. In conjunction with video survey, accurately positioned water column depth data is collected 10 times per second throughout the survey day.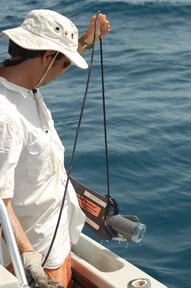 Deploying the underwater camera.
Drawing on this and the spectral information contained within the satellite imagery, fine resolution bathymetry is derived across the entire study area to a depth of approximately 20 meters. Large-scale, 3-dimensional representations of the seascape are also produced. The maps and bathymetric data sets produced allow the reef environment to be explored within its full landscape context, and represent vital tools for Marine Protected Area (MPA) establishment and management.
Adding to satellite-based mapping is the use of an acoustic sub-bottom system. This instrument emits a low-frequency acoustic wave that propagates through the seafloor and down into the underlying rocks and sediments. A pulse of sound reflects off of layers beneath the seabed caused by different sediment types. By measuring the time taken between the instrument emitting a pulse and receiving the various echoes back, a two-dimensional digital representation of the structure beneath the seabed is generated. The technique allows the internal geometry of the coral reef to be appraised. It is possible to look back in time for periods when the buried reefs were thriving on the seafloor and compare them to the present system. Using a combination of the approaches described, the unique and interacting processes of contemporary and ancient coral reef systems may be explained.
Explore all our latest news from the field