We made it to Bajo Nuevo this afternoon after a final productive day diving Alice Shoal corals. Though we didn't find as much coral at Alice as we might have expected, there is positive news to report here, and chief scientist Andy Bruckner solved one last Alice riddle just before we left.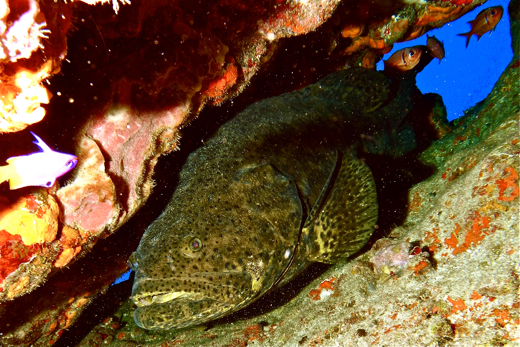 Some sites yesterday and today did have more coral than earlier dives, offering some of the outcrop scenes that most people associate with reefs. In the nooks and crannies we've found eels, crabs, shrimps and the occasional spotted lobster, and far more of the invasive lionfish that was once only found in the South Pacific.
The team found two large colonies of boulder brain coral. They were encouraging sights as they were large—about a meter across and high—and completely healthy. Such colonies were once common in the Caribbean, but today you're most likely to find the skeletal remains of large colonies with only small patches of live coral surviving. Healthy colonies you do find are usually much smaller.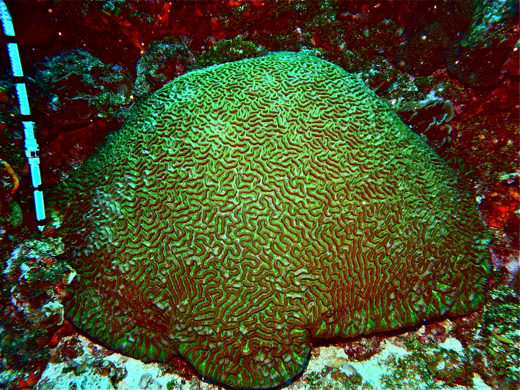 Everyone was pleased to find healthy coral the norm at Alice. There were scattered examples of disease. But damage is sparse and tends to be small lesions, with no obvious signs of the devastating diseases plaguing so many Caribbean reefs.
Oddly, many of the corals we've seen are healthy despite not being permanently anchored to anything. Some corals are common in this sort of aquatic tumbleweed state, but here there are far more unanchored species than normal and they are more widespread.
The thinking is that many of these corals settle initially on something unstable like a sponge or a blade of Alice's abundant algae. Then they fall off but continue growing. The corals don't necessarily look any different if you only give them a quick glance, but you can pick them up, and heavy seas roll them from spot to spot.
Since the first day diving, people have been noticing bits and pieces of broken shells from conchs and other mollusks. There are animals known to chomp these shells, like the nurse sharks we've seen on occasion. But that usually happens over sandy areas. No one could figure out why there would be so many pieces up on the reef areas where we were finding them.
Then, on the next to last dive (right?) today, Andy looked up and saw a queen triggerfish bashing a shell. "It took that thing and was pounding it on the reef, then picking it up and chucking it down," he says, "I couldn't believe it." That species more commonly eats urchins, but there are very few of those at Alice, so apparently these queens have settled on another dietary option. Riddle solved.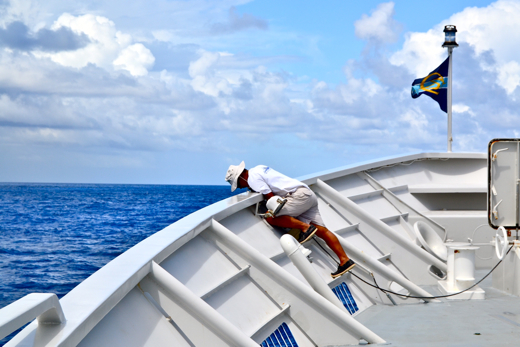 Golden Shadow pulled anchor in the early afternoon so that we could make Bajo Nuevo while it was still light. On this leg, as on most for the Global Reef Expedition, the areas we're visiting are so remote that there is precious little detailed information about things like where to park a 67-meter ship. So, when we arrive at a new spot the crew goes out in small boats to scout and make sure an area is deep enough and free of shallow reef before we drop anchor.
A few of the Colombian scientists on board have been to Bajo Nuevo, and their eyes light up when we talk about the place. So far all we can see is a tiny sand islet with a small lighthouse, and the remains of an ill-fated cargo ship. But from what we hear, tomorrow's dives should be spectacular. Check back in and we'll let you know how it goes.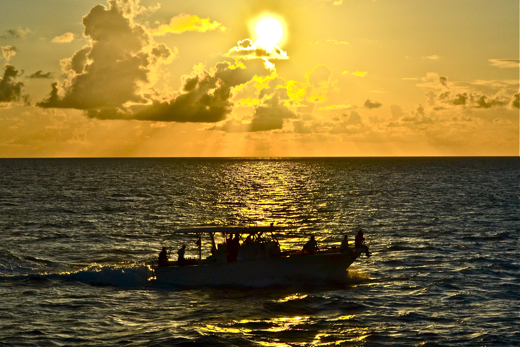 (Photos/Images by: 1&3 Andrew Bruckner, 2&4 Mark Schrope)
To follow along and see more photos, please visit us on Facebook!  You can also follow the expedition on our Global Reef Expedition page, where there is more information about our research and team members.
Explore all our latest news from the field