Written by Toni Saul
It is early morning as we make our way on circuitous dirt and pothole roads, dodging a menagerie of farm animals from the tiniest piglet to unbridled horses and cows. We petition friendly locals for fine-tuned directions to the seemingly hidden school structure within one of the many small, close-knit villages on this island kingdom.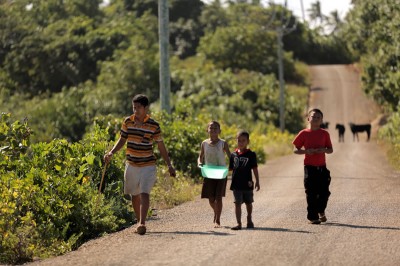 Upon arrival, teachers direct their wide-eyed and curious students into a common classroom. The children kick off their sandals at the doorway and place themselves in close proximity, one to the other, on long wooden benches or the cement floor. Illustrations and simple vocabulary in Tongan and English embellish the walls. In more "affluent" schools, children don uniforms in school colors – boys in shorts or tupenus (traditional skirts) and girls in jumpers or skirts with bright ribbons in their meticulously braided hair.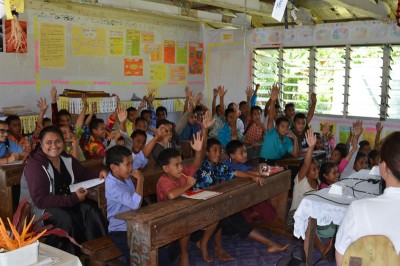 In this makeshift auditorium, we tape a white sheet to the chalkboard and begin our lesson. What is a coral reef? Where are reefs located around the world? Why are they important? Why are they at risk? How can we protect them?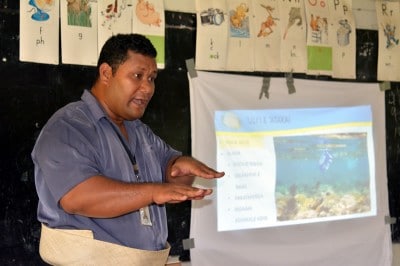 Teachers and principals appreciate our visit. "I didn't know how important coral reefs are until I heard this talk; we really need to take good care of our reefs," comments one teacher; another responds, "Most parents are subsistence fishers. We hope that our students will pass this message on to their parents and community."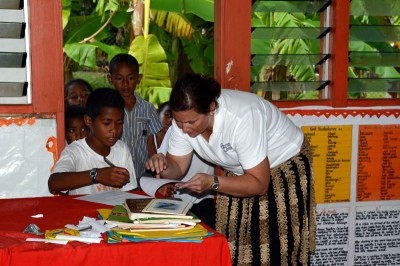 In the many schools participating in this pilot program, children's responses were the same. They shouted with excitement when they saw photos of commonly enjoyed food sources such as feke (octopus) and toke (eel). They were surprised to learn that corals are animals and they were amazed by the footage of the undersea world literally steps from their door. It is precisely upon these steps that the Living Oceans Foundation hopes to build trust, knowledge and stewardship.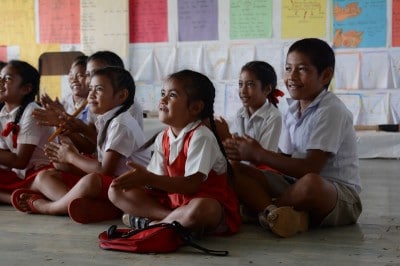 Photos by: 1- James Ball; 2-5 Amy Heemsoth

Explore all our latest news from the field