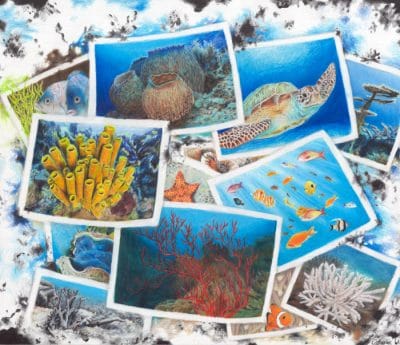 There is still time to participate in our international student art competition, the Science Without Borders® Challenge! The deadline to submit artwork has been extended to Monday, May 20th, 2019.
This year the theme for the Science Without Borders® Challenge is "Connected Ocean: No Barriers, No Boundaries, No Borders." We are asking students to create a piece of artwork that illustrates how the ocean is connected. Although we name the Atlantic, Pacific, Indian, Arctic, and Southern Ocean basins—they are all connected, forming one global ocean. People, whales, birds, fish, water, and nutrients all move from one ocean basin to another, making connections that reach around the world.
The Science Without Borders® Challenge was created to get students and teachers interested in ocean conservation through art. It is open to middle and high school students 11-19 years old, and the winners in each category receive a $500 scholarship to help support their education. We strongly encourage international students to apply and look forward to judging a large and diverse pool of entries this year.
Help make the Science Without Borders® Challenge a big success by telling teachers and students in your own network about this ocean art contest and encouraging them to apply.
Click here to learn more and apply.
Explore all our latest news from the field