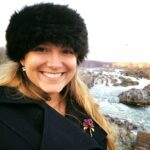 Liz Thompson
Director of Communications
Bio
When Liz left home to study marine biology at Brown University, she started on a journey that would lead her to work on marine science and conservation across the United States. Liz spent some time at Duke University's Marine Lab studying oceanography and marine policy before heading to the University of Miami for a master's degree in marine science and policy. Over the course of her academic career, she studied the physiology of turtles, red tides in the Gulf of Mexico, and the battle over fish and power in the Pacific Northwest with the Army Corps of Engineers.

Liz has over 12 years of experience in marine conservation, policy, and communications. She began her career as a Conservation Scientist at the Marine Conservation Institute, where she worked on establishing new marine protected areas, conservation of marine mammals and endangered species, and sustainable seafood issues in addition to managing their outreach and communications. Prior to that she worked at Stanford University as a Communications Manager for the Natural Capital Project, which aims to align economic forces with conservation. Most recently, she worked in science communications at Caltech, as the editor of the award-winning Techer magazine.

In her current role as Director of Communications for the Khaled bin Sultan Living Oceans Foundation, she writes and curates content for the Foundation's digital media streams, works with the press to share stories of the scientific research conducted aboard the Global Reef Expedition, and promotes the Foundation's outreach and education programs around the world.
Missions