Expedition Log: BIOT – Day 22
The grim reaper comes quickly if you are a coral. Superbly adapted to their life in the shallow ocean and so successful that they can build some of the biggest structures created by living things, corals are also incredibly susceptible to even minor changes in their environment. Like a racecar or a thoroughbred horse, their high performance is so finely tuned to a strictly-defined envelope of environmental conditions, that even minor deviations (like a small increase in temperature) can spell their death.
This year's bleaching event in the British Indian Ocean Territory (BIOT), observed during our surveys for the Global Reef Expedition, was a stark reminder of this reality. But if corals are so vulnerable to small changes in the environment, how come they are still around? The answer lies in the age-old race between life and death.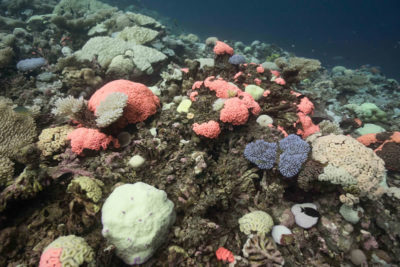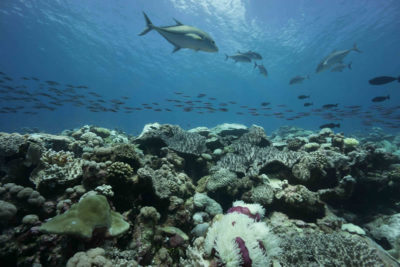 Coral reefs bleach in BIOT, but create space for new corals to settle and grow in the process.
In order to understand how corals in BIOT will recover from this bleaching event, we have to understand reproduction (and recruitment in particular). Are all coral species reproducing? Where are the coral larvae settling? Are the juvenile corals surviving?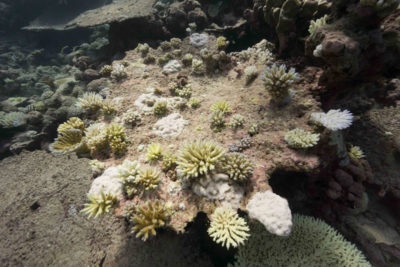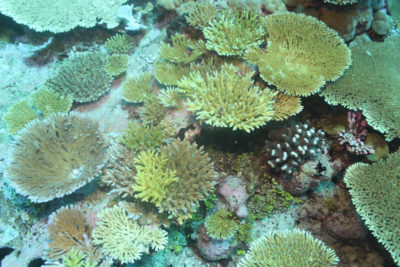 Acropora recruits a few months – 3 years of age (left) and 1-4 years of age (right) in the Peros Banhos lagoon.
Thanks to the famous British scientist Dr. Charles Sheppard, who has researched the reefs of BIOT for 40 years, and his colleague Dr. Al Harris, we know that BIOT has record-levels of coral settlement. This is likely a result of the isolated nature of these banks and islands, where there are few impacts from people. Corals settle best on clean coral rock with at best a cover of calcareous red algae, but rarely on coral covered with green algae. Turfs of green algae often form under human influence, either because we ate the fish that eat these algae, or because runoff added too much nutrients to the water.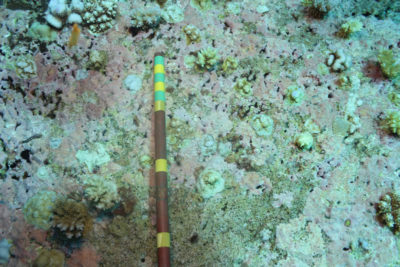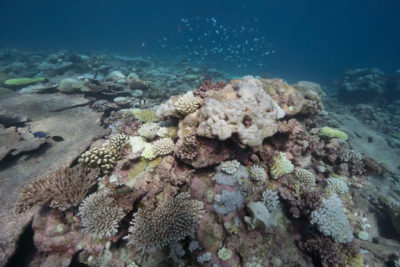 A perfect settlement substrate for juvenile corals: clean coral rock with a cover by calcareous red algae. (left) / An old colony of Porities, some of which died out, provides space for settlement of Acropora, Pocillopora, Montipora, and Stylophora corals as well as patches of calcareous red algae where new coral recruits can settle and grow. (right)
What we saw in the clear and clean waters of BIOT gives us hope these reefs will recover quickly. We saw high levels of coral settlement and very good survival of coral recruits. On shallow reefs we found dense communities of juvenile corals of several species. Interestingly, these were in the very areas that had been decimated by previous bleaching events in 1998 and 2010.
This strong recruitment gives us all reason for optimism. The models we developed from the new datasets collected in BIOT suggest corals should be able to rebound from this year's bleaching event. There certainly appear to be enough coral recruits out there to compensate for some mortality. Our investigations into coral recruitment suggest that these are some of the most vigorous, and therefore most biologically valuable, reefs on earth.
Photos by Bernhard Riegl
Explore all our latest news from the field