After a short break in Jamaica, the M/Y Golden Shadow departed for an overnight sail to the next stop on the Global Reef Expedition: Navassa. Joining the Living Oceans science staff is a cadre of National Oceanic and Atmospheric Administration (NOAA) and University of Miami researchers. Together, they will characterize the current status, threats and resilience of Navassa's reefs.
By revisiting past survey sites, the researchers will update information on coral reef communities examined by NOAA and other partners over the last 10 years. The current mission includes a team doing fish counts, one assessing the density of Elkhorn (Acropora palmata) and other corals, and one doing benthic transects.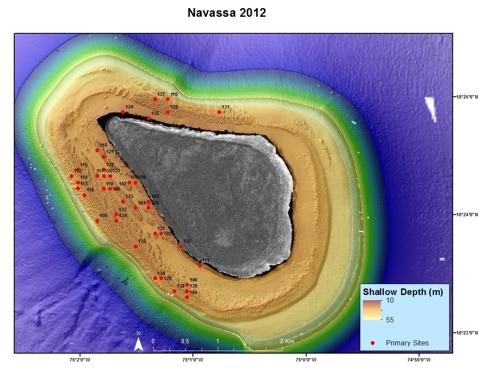 In addition to the researchers, Mike Trimble, a high school teacher from Corona del Sol High School in Tempe, Arizona, joined the Navassa team. Mike is documenting the research process being used by the researchers and providing updates from the field to his class in Arizona and another partner school in Gig Harbor, Washington. Periodically, students from both schools will be emailing questions to the researchers. Mike is part of new Living Oceans Foundation program called CREW (Coral Reef Educators on the Water).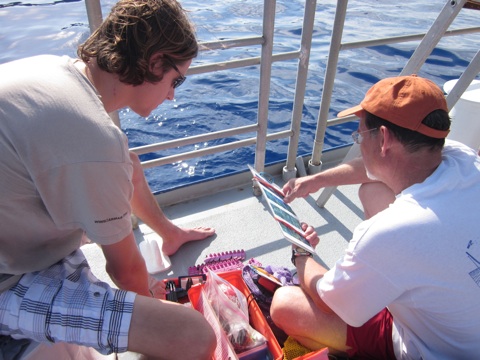 Navassa has a steep profile. Most of the corals on the island are located at a depth of 20-30 meters. These deeper dives present a host of additional safety considerations. Divers carefully monitor their depth and bottom time to avoid oxygen toxicity, nitrogen narcosis, and decompression sickness.
Just before the first dive boats returned from their morning dives, a group of fishers from Haiti stopped by the Shadow to refill on fresh water, a scarce resource on Navassa. The only locally available freshwater source is a cistern on the island. Though likely contaminated by bats and other animals, fishers will still use this water source if they run dry.
Arriving in Navassa the day before from Haiti, the fishers will spend the next 10 days fishing around Navassa before returning home. Today's catch included bar jacks, sand tilefish (some of which are used for bait), Sargassum triggerfish, blue tang, barracuda, and yellowtail snapper. The fish will be salted and dried as they continue to fish over the next week and half.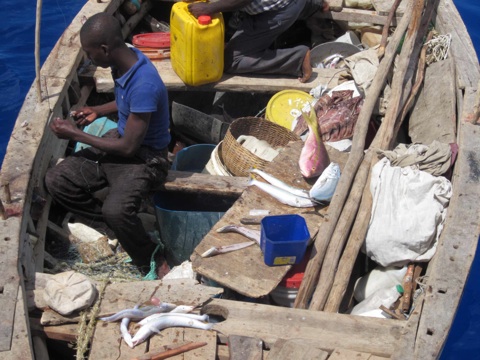 Testing new equipment is a part of every survey mission. In order to enhance underwater communication, Phil Renaud conducted a mini-workshop on full-face masks with communication capabilities for a few of the divers. Once underwater, divers can discuss their observations and better interact with each other.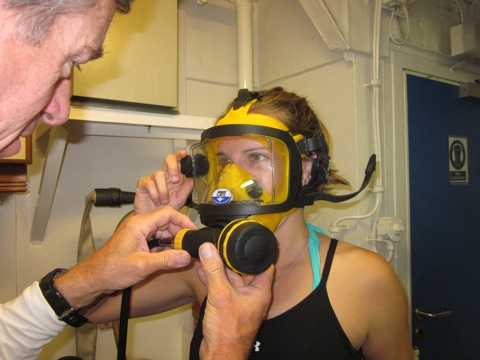 (Photos/Images by: 1 SEFSC, 2-4 Eddie Gonzalez)
To follow along and see more photos, please visit us on Facebook! You can also follow the expedition on our Global Reef Expedition page, where there is more information about our research and our team members.
Explore all our latest news from the field