Photography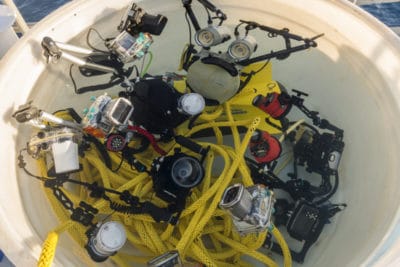 At the Khaled bin Sultan Living Oceans Foundation, we strongly believe in the value of a powerful image. Perhaps because it helps make an emotional connection to a creature many of us will never meet, or it illustrates a concealed threat to our coral reefs, or it inspires us to take a moment to reflect and appreciate all that the oceans can offer us. For these reasons and more we try use spectacular underwater imagery in our scientific reports and publications, outreach and education materials, social and digital media outlets, and in our stories that appear in the news.
Many of our best images have come from our partnership with the International League of Conservation Photographers (iLCP), a non-profit organization that enlists some of the world's best conservation photographers to advance conservation communication efforts around the world. We have invited several iLCP photographers to join us on the Global Reef Expedition to capture the stunning beauty of life on a coral reef. You can read stories about our work with iLCP in French Polynesia, The Great Barrier Reef and most recently Palau on the National Geographic Oceans Views blog.
In addition to the professional photographers we invite to join us on the Global Reef Expedition, our field scientists take some great underwater shots while conducting field surveys. We feature a selection of their best images in our field blogs and photo galleries from each mission.
Some examples of how we use images are:
WiLDSPEAK
Our partnership with iLCP was featured in WiLDSPEAK, a conservation photography conference held in Washington D.C. in conjunction with the FotoWeekDC photography event.
French Polynesia Photo Exhibit
In 2013, we held a photo exhibit and scientific presentation in French Polynesia for government officials and representatives of local conservation organizations. The exhibit featured the work of iLCP photographer Michele Westmoreland, who joined us on the Global Reef Expedition in French Polynesia. The exhibit featured her images of vibrant life on some of French Polynesia's remotest reefs, places that had been hidden to most people who attend the exhibition.