2022 Science Without Borders® Challenge Finalists: 11-14 year old students
The Khaled bin Sultan Living Oceans Foundation is thrilled to announce the finalists in our 2022 Science Without Borders® Challenge! This international contest engages students in important ocean issues through art. This year we asked students to create a piece of art that illustrates one or more actions that governments, non-profits, park managers, and indigenous communities can take to preserve coral reefs using a ridge-to-reef approach to conservation.
We hope you will be as impressed with the submissions we received as we were. Entries to the Science Without Borders® Challenge are judged in two categories based on age. Here are the finalists selected from the younger group of applicants, students 11-14 years old:
"It's Okay" by Ya Ru Cao, Age 14, Florida, United States of America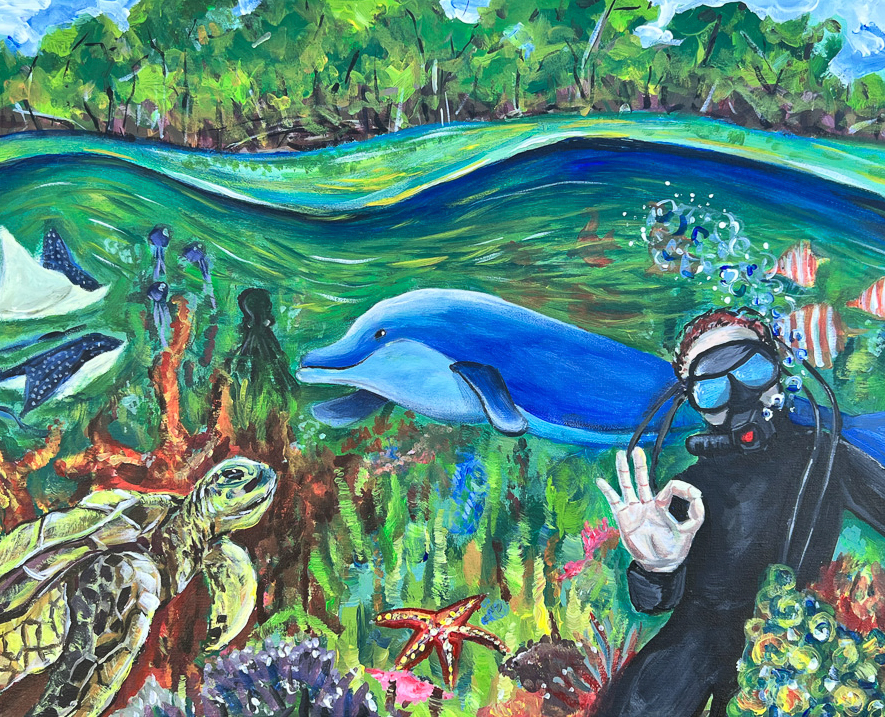 Picture 13 of 15
ARTIST'S STATEMENT: The superficial trees near the coast and the shallow water illuminating with the coral reefs. This drawing illustrates a man gesturing "Don't worry. It's Okay." The animals are shown to be lively and the waters being vibrant in color, it shows the beauty of the coral reefs that we should strive to achieve, with the forests being part of the environment, It means everything is fine, all is right. With all the worrying in the world, we all need someone to say that it will be okay and we shouldn't worry. The ocean is cheering, and the forests are strong, it's going smoothly, it'll be okay!