In 2003, my wife and I immigrated to Far North Queensland, Australia – gateway to the Great Barrier Reef. Throughout the years, we take every opportunity to hop on a dive live-aboard or join scientific expeditions to spend as many hours underwater as possible in this great world heritage area.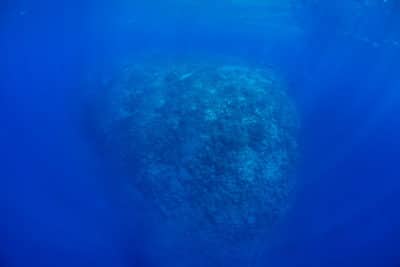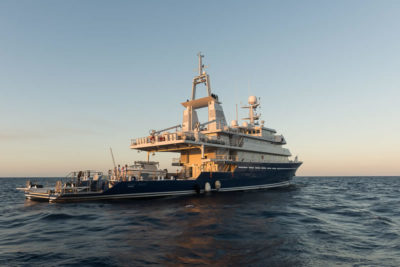 Left: The oceanic water at the outer edge of the Great Barrier Reef is so clear, that you can see the surveying scientists as little specks in the upper right corner from almost 50 meter away. / Right: The MY Golden Shadow. Mothership of the Khaled bin Sultan Living Oceans Foundation Global Reef Expedition. A commitment to Science Without Borders.®
(Click-thru on images for greater detail.)
Joining the Living Oceans Foundation's Great Barrier Reef mission was a wonderful opportunity to revisit and photograph remote and hardly visited coral reefs very few are lucky to see. For two weeks, as the representing Fellow of the International League of Conservation Photographers, I photographically documented the Great Barrier Reef and the science that happened on board and underwater.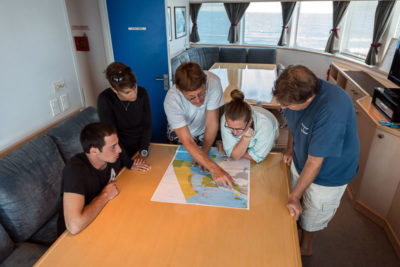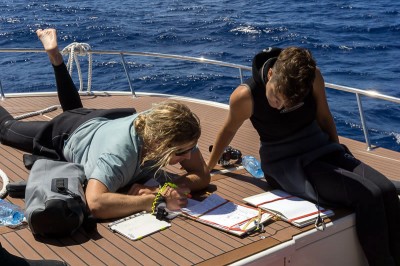 Left: Living Oceans Foundation Chief Scientist Dr. Andrew Bruckner discusses the Great Barrier Reef Zoning Map with some members of his team, showing which areas were selected for their coral and fish survey. / Right: Scientists Stefan Andrews & Katie Lubarsky review data gathered underwater.
(Click-thru on images for greater detail.)
A mission like this may happen in warm tropical coral reefs but it was definitely not a vacation – like lying on a hammock with a fancy drink in your hand. Every day was run like clockwork to keep up with the set goal of surveying as many reef systems as possible. Physically and logistically it was only possible to have three dives a day. Two in the morning and one in the afternoon with a lunch break back on board the Golden Shadow. And believe me, you get really hungry out there.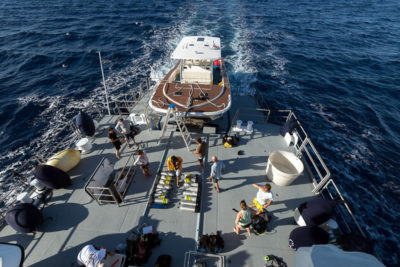 Back deck of the Golden Shadow where steadfast focus ruled.
All the scientific work at the Great Barrier Reef was happening right down in the reef. That was where I was hanging out with my camera gear, observing scientists who were observing corals and fish. There were various groups of divers divided into three boats. Groups of scientists were identifying and counting corals, other groups identified and counted coral fish and the last group looked for sharks and pelagic fish. As the photographer, I was basically ignored underwater; each and every diver was extremely busy, engrossed in recording their own set of scientific activities.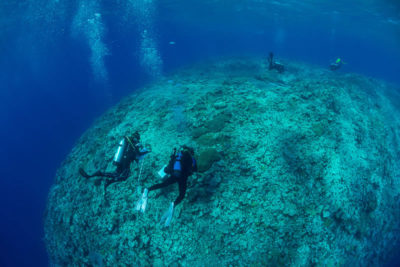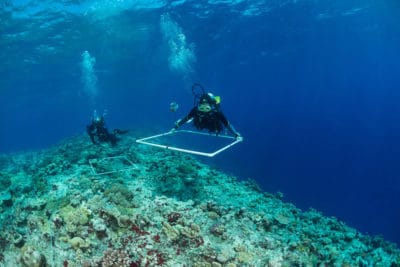 Scientists of the Living Oceans Foundation surveying corals at the outer reef edge of the Great Barrier Reef. The mid-shelf reefs were a lot murkier than this spectacular outer reef which almost always had fantastic visibility.
(Click-thru on images for greater detail.)
After a short while I learned that I had to give quite some space to the coral fish guys, otherwise their fish would swim away and their survey ruined. One fish scientist Stefan Andrews, my poor roommate who had to suffer my snoring, on one of the dives was busily writing data onto his slate. He didn't see the curious potato cod that was bigger than him hover above him checking him out! That's how engrossed each scientific diver was to his/her job.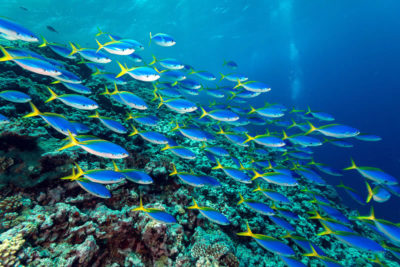 Schooling fusiliers in the outer Great Barrier Reef.
(Click-thru on image for greater detail.)
The coral surveyors on the other hand couldn't care less if I was near or not. It actually took a few days to recognize divers underwater, they all looked alike in the beginning, but soon subtle differences like fin colors, BCDs, and suits began to sink in.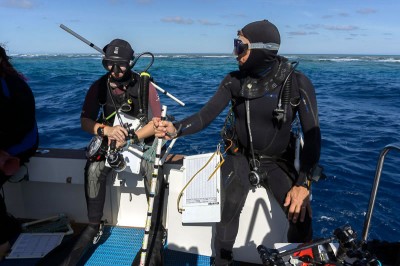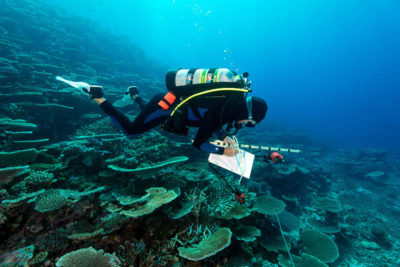 Left: Like underwater ninjas, Alex Dempsey and Andy Bruckner wait to reach their dive site. / Right: Andy Bruckner with his funky white fins.
(Click-thru on images for greater detail.)
My work on one hand was to photograph the scientists at work. I also wanted to document the marine habitat and marine creatures and each of the dives I made was with my new best buddy Phil Renaud.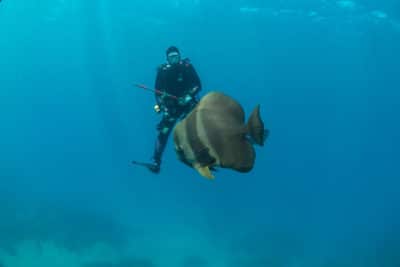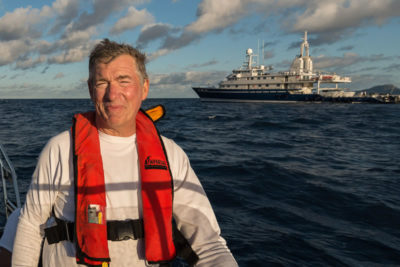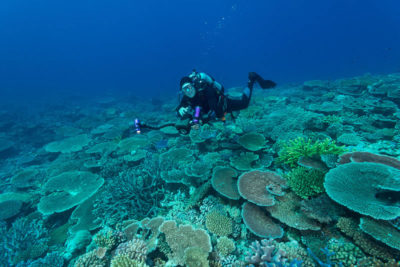 Captain Philip Renaud. Executive Director of the Living Oceans Foundation and my wonderful dive buddy!
(Click-thru on images for greater detail.)
Here are some of the reefs we visited in the far northern part of the Great Barrier Reef.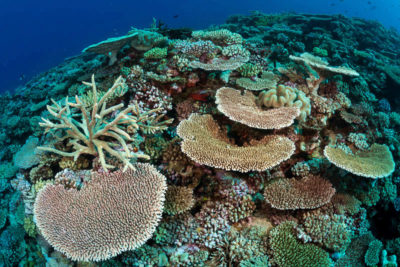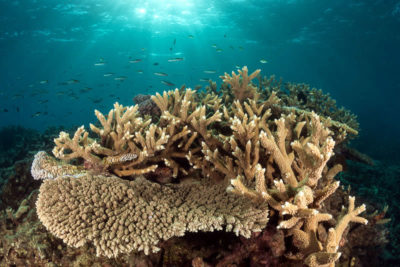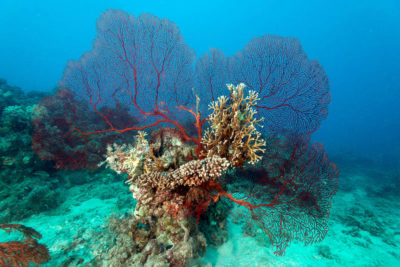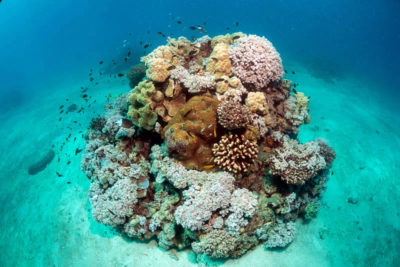 Reefs visited in the far northern Great Barrier Reef.
(Click-thru on images for greater detail.)
In underwater photography, once in place, you cannot change your lens in the water. My camera, a Nikon D800E was safely packed in a Seacam underwater housing that allows me to manipulate pretty much every control I need. Since water with growing depth rapidly filters out all warm colors from the sun-light you need underwater strobes to compensate for these losses. Since I could not change lenses underwater I had to anticipate my subjects before every dive to the get the right shots. A fisheye lens is great as long as you have a nice coral landscape nearby but very bad for a shark 5 meters away. The shark would appear as small as a pinprick. One time I brought a macro lens to shoot some anemonefish and ended up being surrounded by a large school of giant trevallies! So much for having a nose for anticipating events. Most of the time though I used my Nikkor 16-35mm, a good all around wide angle lens.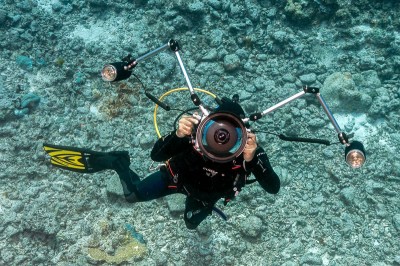 Jürgen Freund photographed by Will Robbins.
In the middle of my two-week part of the expedition, the moon cycle, tide, wind and location coincided perfectly for me to take some split-level or over/under images of the reef. We ended up at the full moon low tide of a reef with a shallow sandy floor scattered with nice coral patches throughout the sandbar. You need to get all these factors perfectly together to get these complex images. The rest is having the right equipment. For split-levels you need a very big wide-angle lens, best a full frame fisheye. Even in very calm conditions there is almost always some water movement that sloshes around the uw camera. In order to handle waves easier and to get a really thin water dividing line, the dome shaped front-glass of the camera housing should be as big as possible. My Seacam Superdome is quite large with 240mm in diameter but certainly a smaller dome will do the job as well. Set the camera to manual exposure mode, focus on the corals underwater and shoot. Water always steals sun-light, the best to counter that is to position your underwater strobes under the camera pointing towards the corals. The only tricky part is to avoid water drops from the top exposed part of the dome running down the glass. A special trick to get no water drops is spitting onto the glass and at least for a while it will work. The only downside of my shoot was that we were far away from any islands, so nothing interesting to see at the topside except for blue sky.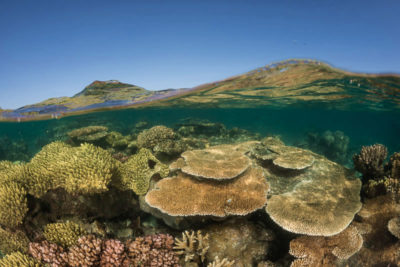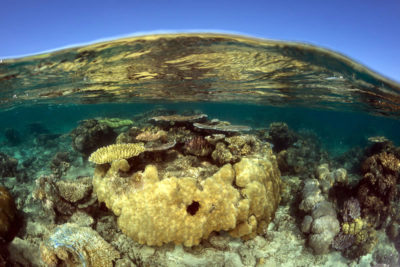 (Click-thru on images for greater detail.)
Photos by Jürgen Freund (except photo of Jürgen Freund by Will Robbins).
Explore all our latest news from the field